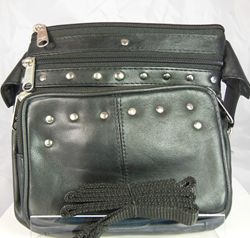 Our For Revver Biker Purse, in genuine black leather, is sure to become a favorite among fashion-savvy consumers
San Juan, Puerto Rico (PRWEB) September 30, 2014
Fashion accessory innovators, Nifty-Nifty.com, are thrilled to announce the newest product in their exceptional line of hands-free, one of kind gadgets, the For Revver Biker Purse.
"Our For Revver Biker Purse, in genuine black leather, is sure to become a favorite among fashion-savvy consumers. Guys and gals alike will enjoy carrying this practical, four pocket cell phone/wallet/passport holder, wherever they may go, and will no doubt never leave home without it," says Nifty-Nifty.com co-founder, Wendy Miller.
Discover the For Revver Biker Purse by Nifty-Nifty.com, here:
*http://www.nifty-nifty.com/biker-purse-best-for-revver-biker-purse/
Nifty-Nifty.com's For Revver Biker Purse is a handsome, practical bag, which boasts 4 sizeable zippered compartments, to keep consumers' electronics and small goods organized, secure, and safe from the elements.
This versatile purse comes equipped with 2 sturdy extended metal clips, which allows one to wear it as a comfortable, convenient, hip bag, by simply attaching the clips to a couple of belt loops. A detachable, adjustable, leather strap is also included, allowing the option of wearing the For Revver Biker Bag as a cool cross-body purse.
Whether biking, driving, hiking, or simply strolling along, the durable For Revver Biker Purse is the perfect cell phone accessory to carry on all life's journeys, as consumers create memories to last forever.
About Nifty-Nifty.com    
Nifty-Nifty.com caters to a diverse clientele from all over the globe. As the world's leading online retailer of innovative versatile products, Nifty-Nifty.com specializes in nifty products such as Biker Purses, Phubby, Specs-In-A-Sec magnetic eyeglass holders, Cell-Fie HipBand Cellphone Holders and Cross Body Cell Phone Purses, among others. All products are offered at highly competitive prices with zero charge shipping in the USA and Canada. 
http://www.Nifty-Nifty
.com   Tel. 858-248-2302