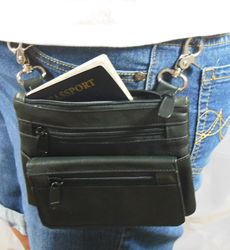 When you are on the go, all you need is a Biker Purse and you are set AND you don't even need to be a Biker to look cool. Dudes love them too!
Phoenix, AZ (PRWEB) April 10, 2014
The leading online retailer of innovative bags, cellphone purses and functional accessories, Nifty-Nifty.com has recently announced the launch of its new biker purse in what seems as a move to expand its already versatile collection of pioneering products. Though originally meant for bikers and motorcyclists, these purses are quite popular among active women from all walks of life.
For more info on Biker Purses, go to: http://www.nifty-nifty.com/biker-purses/
Speaking on the launch, Wendy Miller, co-owner, Nifty-Nifty.com said, "As the market leader in cellphone purses and hands free accessories, our endeavor is to provide the best quality products to our customers and introducing biker purses is a small step in that direction. At the same time, we aim to take maximum advantage of online technology to make our products and services even more accessible to the users."
The company said it plans to add more products to its line of bags and purses while strengthening its online retail network. Notably, Nifty-Nifty is one of the few online retailers that offer zero charge shipping in the USA and Canada.
About the Biker Purse
Biker purse is a great option for women who need to keep all their essentials with them, but at the same time want to be hands-free on the go. Biker city bag can be worn cross-body or on shoulder, or consumers can attach it to their belt loops with the help of two chrome plated clips provided on the sides. An adjustable strap is also provided that can be attached to transform it into a functional handbag. Biker hip purse is ideal for clubbing, golfing, shopping, hiking, bar-hopping and biking, and is a useful accessory to carry cell phones, credit cards, keys, cash and other essentials safely and organized on the go.
Biker girl purses are currently available in three options; 'Serious' Biker Purse, 'Fun-Stud' Biker Purse with Extenders, and 'Wild-Extenders' Biker Purse. The latter two options have belt loop 'extenders', which enable these biker purses to hang lower than the waistline to make them more easily accessible. Manufactured from sturdy hardware, these biker purses feature separate pockets for smartphones and other essential items to protect delicate devices from rubbing against harsh items.
About Nifty-Nifty.com
Nifty-Nifty.com caters to a diverse clientele from all over the world. As the world's leading online retailer of innovative, versatile products, Nifty-Nifty.com specializes in nifty products such as Biker Purses, Phubby, Specs-In-A-Sec magnetic eyeglass holders, Cell-Fies and Cross Body Cell Phone Purses, among others. All products are offered at highly competitive prices with zero charge shipping in the USA and Canada.
Tel. 858-248-2302