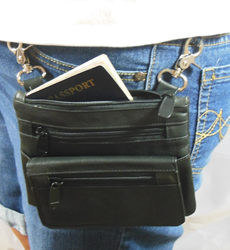 Best, most convenient bag for Holiday shopping - Serious Biker Purse and guys and gals are loving it!
Fairbanks, AK (PRWEB) November 28, 2014
Nifty-Nifty.com, creators of one of kind fashion gadgets, has just declared their Best Serious Biker Purse as the best purse for serious shoppers, this holiday season.
"We at Nifty-Nifty.com are wonderfully excited to provide shoppers with the best, most convenient bag for all their holiday shopping endeavors. This versatile little organizer bag will fit all one's cash, credit cards, gift cards, shopping lists, receipts, and cell phones, with ease, making shopping a breeze", states Nifty-Nifty.com co-founder, Wendy Miller.
Check out Nifty-Nifty.com's Best Serious Biker Purse,
*http://www.nifty-nifty.com/biker-purse-best-serious-biker-purse/
Best Serious Biker Purse by Nifty-Nifty.com is constructed of rugged genuine leather and measures approximately 7 inches across and 5.5 inches high. Complete with three separate pockets (2 zippered, one Velcro) this dynamic biker clip bag is perfect for carrying all one's small belongings, including cell phones, passports, keys, sunglasses and more, securely and comfortably.
The multifunctional Best Biker Purse, available in Serious Black, Serious Brown, and Serious Wine, is unisex, and may be worn in a variety of ways; as a hip bag, a shoulder bag, or a cross-body bag, given the chrome-plated metal clips and adjustable strap provided.
Fashion-savvy consumers are encouraged to enjoy a delightful holiday shopping season, worry-free, and beautifully, with Nifty-Nifty.com's Best Serious Biker Purse by their side.
About Nifty-Nifty.com    
Nifty-Nifty.com caters to a diverse clientele from all over the globe. As the world's leading online retailer of innovative, ve rsatile products, Nifty-Nifty.com specializes in nifty products such as Biker Purses, Phubby, Specs-in-a-Sec magnetic eyeglass holders, Cell-Fie HipBand Cellphone Holders and Cross Body Cell Phone Purses, among others. All products are offered at highly competitive prices with zero charge shipping in the USA and Canada.
http://www.Nifty-Nifty.com 
Tel. 858-248-2302