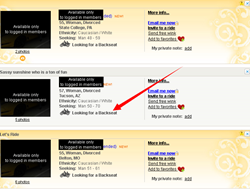 (PRWEB) May 08, 2015
Renowned biker dating website BikerKiss.com that has gained the attention of both critics as well as users from across the globe recently launched a new feature, which is aimed at making the process of dating easier and hassle-free.
A spokesperson from the website said, "The launch of our new feature will ensure bike enthusiasts find a compatible partner who can accompany them. Since 2001, we have done a great deal of research on dating trends and have discovered that some people only look for partners with whom they can head on short trips. Our latest feature would cater exclusively to these users."
In the recent past, BikerKiss.com had made significant changes to their search algorithms in order to make them more precise. The website has made significant enhancements to their critical communication features too. While the website may not have changed visually, these features have certainly made it easier for users to find a compatible partner.
New York based dating expert Joyce Wilson said, "Online dating has emerged as a cost-effective and convenient way by which people can discover the love of their life. However, lack of innovation has made people to look for alternative ways of dating. It is essential that online dating platforms maintain interest of their users and this is exactly what BikerKiss.com has managed to do over the last 14 years."
"Just when you think the online dating industry is approaching saturation, they come up with a new feature", he added. BikerKiss.com is a dating site made exclusively for people that are passionate about motorcycles. The website is free to register with and allows users to take advantage of various top-notch search and communication features.