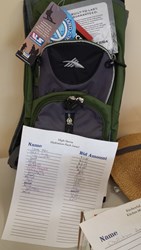 The silent auction is a great way to raise money....All the employees are motivated to help raise the much need funds for the AHA. They are also excited to get some very nice items for a great price and a great cause. - Tina Howe
San Diego, CA (PRWEB) September 27, 2013
The Bill Howe Family of Companies is comprised of Bill Howe Plumbing, Inc., Bill Howe Heating & Air Conditioning, Inc. and Bill Howe Restoration & Flood Services, Inc. Family owned and operated since 1980, the company has become a leading service provider in San Diego, plumbers, HVAC technicians, and Clean Trust Certified water remediation specialists are available 24/7 to service residents home needs from start to finish.
In addition to offering expert services, the Bill Howe Family of Companies is active in community outreach and philanthropy. Bill and Tina Howe have generously donated to such outreach programs as the Andrew Chapman Mentorship Program together with Second Chance and continue to provide opportunities for young adults through San Diego Job Corps. They have instilled the same "pay-it-forward" spirit in their employees and on September 28, the company will have a team participate in the American Heart Association (AHA) San Diego Heart Walk.
The company has teamed up with the AHA for the past three years with the annual "Howe" Healthy is your Heart Drawing Contest, which will continue through 2015. It is another way for Bill Howe Plumbing to give back to the local community and raise awareness for healthy living, something very special to Bill and Tina Howe. Part of the team participation in the upcoming AHA Heart Walk is a fundraising effort. Each member of the Heart Walk team has pledged to raise money and as a group, they are holding a silent auction at the San Diego plumber's headquarters on Aero Drive in Serra Mesa.
The San Diego plumbers, HVAC technicians, Restoration specialists and office staff have donated items for the auction and all money raised will go directly to the AHA. Some of the items available for bidding are: brand new High Sierra outdoor backpacking gear, an espresso machine, a framed historical artifact from the 1812 Republican National Convention, Michael Kors designer shoes, children's toys, books, picture frames, Holiday decorations and much more. The silent auction will go on through the end of the month and the AHA Heart Walk team hopes to exceed last year's fundraising efforts. As of this release, the auction has already raised over $250.00 for the AHA.
"The silent auction is a great way to raise money," said Tina Howe, President of the Bill Howe Family of Companies. "All the employees are motivated to help raise the much need funds for the AHA. They are also excited to get some very nice items for a great price and a great cause."
For more information about the Bill Howe Family of Companies' services in San Diego: heating & air conditioning, plumbing and restoration & flood, visit http://www.billhowe.com, or to speak with Bill or Tina Howe regarding this announcement, contact Bill Howe Marketing Director, Julie Riddle at Julie(at)billhowe(dot)com.
About Bill Howe Family of Companies
Bill Howe Family of Companies is comprised of Bill Howe Plumbing, Inc.; Bill Howe Heating & Air Conditioning, Inc.; Bill Howe Restoration & Flood Services, Inc. The family-owned and operated company began in 1980 with the plumbing division and has grown into San Diego County's largest low-cost one-stop-shop for service, repairs and installation, offering both residential and commercial services. 9085 Aero Drive, Suite B, San Diego CA 92123. Call 1-800-BILL-HOWE because We Know Howe!
###