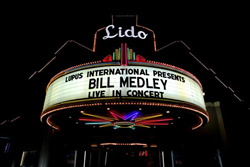 "These guys put together some of the most beautiful harmonies ever! Soundtracks to unforgettable movies feature their best songs, they are The Righteous Brothers". --Jimmy Fallon of the Tonight Show
Newport Beach, California (PRWEB) August 16, 2015
Jimmy Fallon, of The Tonight Show said it best-- "The guys put together some of the most beautiful harmonies ever! Soundtracks to unforgettable movies feature their best songs, they are The Righteous Brothers".
Legendary Rock n' Roll Hall of Famer Bill Medley of the Righteous Brothers will be performing at the Lido Live Theater to benefit Lupus International Foundation. It will take place on Thursday, August 20, 2015 at the historic Lido Live Theater.
Don't miss your chance, go to lupusinternational.com or call 949/278-1646 for more information.
The Righteous Brothers rose to the top with hits like "You've Lost That Lovin' Feelin", "Just Once in My Life", "Unchained Melody", "(You're My) Soul and Inspiration" and the Grammy, Golden Globe and Academy Award winning song "(I've Had) The Time of My Life".
This event has special meaning to Medley. It was created in honor of the late Linda Hatfield, wife of the late Bobby Hatfield. Linda battled lupus for years and worked tirelessly with her family to help raise awareness, funds for research and support. For more than twenty-seven years, Bill has generously to donated his time and talents to helping The Lupus International Foundation.