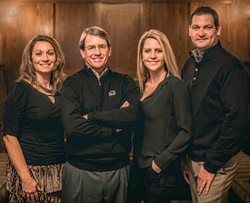 I am proud to be a real estate agent in a community I am proud to call home.
Indianapolis, IN (PRWEB) February 07, 2015
Nicole Morfas, Jennifer Overett and Dan Goodrich are the newest members of The Mitchell Team, all with various degrees of experience and representing a cross section of demographics. "I am investing heavily in people, systems and processes to better serve our clients," said Bill.
Nicole Morfas is in her 8th year as a real estate agent, has an economics degree from Purdue University and brings with her experiences in the financial services and the insurance industry. She is involved in the community from Carmel Clay Schools PTO programs to the Carmel Dads' Club.
Jennifer Overett, a licensed agent since 2008 brings with her a degree from Ball State University and a strong background in marketing and communications. Jen credits her success in real estate to her strong communication skills and staying fully connected with clients during the entire buying and selling process.
Dan Goodrich, as graduate of Michigan State University recently located to the area and brings 13 years of experience in the financial industry and is enjoying his second year in the real estate business.
Broker/Realtor and head of The Mitchell Team, Bill is a native of the area, graduate of the School of Business at Indiana University, developed his strong business acumen through twenty years of corporate sales and marketing management experiences. Prior to his transformation into the real estate arena he spent 6 years as a "Mr. Mom" raising two daughters and running the family. His business experiences in marketing and negotiations along with his stay-at-home-dad experience, has served him and his real estate clients well the past ten years. Bill strongly believes in continuous improvement and development and was recently awarded the designated of Certified Luxury Home Marketing Specialist (CLHMS). Members of The Institute who hold the CLHMS designation have documented performance in the top 10% of their markets, and have successfully demonstrated their expertise in the luxury home and estate market in the class room as well as the marketplace.
The Mitchell Team serves Indianapolis, Carmel, Noblesville, Zionsville, Westfield, Fishers and surrounding areas. "Indianapolis has come such a long way over the past fifty years and it is so nice to see the continuous improvement. I am proud to be a real estate agent in a community I am proud to call home," said Bill.
According to a recent article on December 27, 2014 in Indy Star, "Lonely Planet, one of the world's foremost travel publishers, recently released its list of the top 10 American destinations to visit in 2015, showcasing Indianapolis at number six. It also states, "What do Cape Town, South Africa, Belize and Indianapolis have in common? They're all listed as part of the New York Times' 52 Places to Go in 2014. If that news comes as a shock, you're not alone. Lonely Plant dubbed Indianapolis "America's most surprising city."
The Mitchell Team with RE/MAX Ability Plus' office location is at 200 S Rangeline Rd, Indianapolis, IN 46032. For more information on buying or selling a home, please call (317) 696-4181.
About RE/MAX Ability Plus – The Mitchell Team
The Mitchell Team works with buyers and sellers of residential real estate in all price segments from first time home buyers to multi-million dollar listings, and those looking to re-locate to the area.
About NALA™
The NALA is a full-service marketing agency providing custom personalized service for small and medium businesses throughout the United States.
PR Contact: Tiffani Tendell
ttendell(at)thenala(dot)com, 805.650.6121, ext. 361