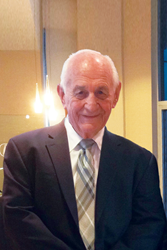 Bill Vince is confident that no one will question his claim of being "The Oldest Honda and Acura Dealer in the Nation."
North Plainfield, NJ (PRWEB) February 28, 2014
Just three years ago, Bill Vince marked his fiftieth year in the car business with a quiet luncheon, where he received a Congressional Proclamation recognizing his remarkable achievement.
For his 90th birthday, Vince, an inveterate promoter, is inviting all of his customers, friends and the communities his dealerships serve to celebrate with him at both of his dealerships on Saturday, March 15th from noon to 5:00 p.m. Attendees will enjoy complementary food and refreshments, free gifts and a chance to win a flat-panel TV. There is no purchase necessary.
This kind of bash is nothing new for Bill Vince, who has always believed in doing whatever it takes to stand out from the competition. Throwing checks out of an airplane, hosting Playboy Playmates and radio personality Don Imus are just some of the successful stunts Vince has employed over the years to sell first motorcycles and then cars.
The airplane promotion drew such huge crowds it actually prompted a change in FAA flight rules governing small aircraft flying over congested areas.
In his early years as a Honda Motorcycle dealer, Vince, at well over six feet tall, called himself "New Jersey's Biggest Honda Dealer," hoping his customers would think it meant the dealership. It was stretching the truth, but Vince did sell a lot of motorcycles, and earned the nickname, "Big Bill."
Now, Bill Vince is confident that no one will question his claim of being "The Oldest Honda and Acura Dealer in the Nation." He might want to add "active" to his new title, because, on most days, you can still find Vince at either VIP Honda or Bridgewater Acura, attending management meetings, mentoring young salespeople, inspecting the showrooms and customer waiting areas and, if needed, ready to sell a car.
An astute businessman, Vince understood that the future of the car business would be based on selling world-class products and giving customers first-class treatment. In 1971, he bet on Honda quality, became one of the first Honda Automobile dealers in the country, and earned another title, "visionary."
Of course, the car business has changed dramatically over the years. Today, Vince, like his fellow dealers, has poured a ton of money into hi-tech, state-of-the-art facilities in order to stay competitive and give customers what they want and expect.
Vince is rightly proud of his dealerships. The 30,000 square foot VIP Honda facility was built new, from the ground up in 2006. Bridgewater Acura completed an $8 million expansion and renovation less than two years ago.
Two things that haven't changed for Bill Vince and his dealerships are their commitments to customer satisfaction and giving back to the communities that make their success possible. This is why Vince decided to hold his birthday celebration at his dealerships.
The public is invited to join the festivities for Bill Vince's 90th birthday party at VIP Honda, 700 Route 22 East in North Plainfield and Bridgewater Acura, 1231 Route 22 West in Bridgewater on Saturday, March 15, 2014 from noon to 5:00 pm.
To learn more about Bill Vince's dealerships, visit them or go online at: viphonda.com and bridgewateracura.com