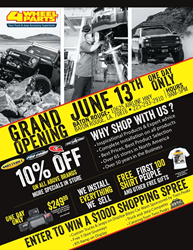 We can now fill this need the area has for accessible, affordable products, and with our new distribution center servicing the Southeast, we can deliver those products to our customers faster and for a lower cost than ever before
Compton, CA (PRWEB) June 11, 2015
4 Wheel Parts, the global leader in off-road aftermarket performance product sales and installation, is celebrating the grand opening of their newest location this Saturday, June 13, in Baton Rouge, LA. The Baton Rouge 4 Wheel Parts store is not only the company's 69th retail location in North America, but is also an opportunity for 4x4, truck, Jeep and SUV owners in the area to get easy access to the brands they trust with an on-hand experience thanks to the new 4 Wheel Parts store model.
Following recent expansions into Langley, BC and Edmonton, AB earlier in 2015, the Baton Rouge store joins its neighboring Bossier City location in serving the thriving 4x4 and off-road community throughout Louisiana. Also earlier in 2015, 4 Wheel Parts debuted a newly-expanded distribution center in Coppell, TX aimed at increasing available inventory and improving delivery times to its customers in the Southeastern U.S. Even as Baton Rouge steps up to the plate, 4 Wheel Parts is planning to expand farther with another new distribution center in the Pacific Northwest set to open in September and several more new stores opening throughout North America with the goal of bringing trusted products, great prices and a history of excellence in service to 4x4 and off-road enthusiast around the globe.
Committed to providing their customers with the best experience, 4 Wheel Parts is also continuing its pioneering store remodels throughout each of its existing locations. Every new and remodeled store features an interactive environment, where customers can experience the parts and accessories they're interested in before making a purchase. The open floor space and high-tech displays are designed to encourage interaction between customers and staff, who are available to answer questions about products, fitment, features, pricing and which parts best fulfill the customer's needs. Whether a customer is searching for a new set of Dick Cepek tires or just knows they need a winch, the 4 Wheel Parts experts are on-hand to help.
"Our customers here in Baton Rouge love to get outside with their 4x4s and get dirty, whether it's on the trails off-roading or on the way to their favorite hunting spot. We have a unique opportunity right now, bringing our cutting-edge showroom into Baton Rouge. We can now fill this need the area has for accessible, affordable products, and with our new distribution center servicing the Southeast, we can deliver those products to our customers faster and for a lower cost than ever before," says Store Manager Ryan Cupit.
The Baton Rouge Grand Opening Celebration will welcome customers in to the new location, where they can enjoy a family-friendly event focused on all things 4x4 and off-road. Aside from great deals on parts and accessories, the celebration provides attendees an opportunity to enter for a chance to win a $1,000 shopping spree, see 4 Wheel Parts' products fully installed on customized vehicle displays, ask questions of the experts and get discounts on product installations by the 4 Wheel Parts team of ASE-certified technicians.
The Grand Opening Celebration will take place from 9 a.m. to 5 p.m. Saturday, June 13 at the newly-opened Baton Rouge, LA store at 10625 Airline Highway Service Road. For more information, call the store at (225)293-2910 or email bat@4wheelparts.com.
About 4 Wheel Parts
4 Wheel Parts is the global leader in truck, Jeep, SUV and off-road performance products. With 69 locations across the U.S. and Canada and growing, 4 Wheel Parts Service Centers install all the products they sell. Maintaining the nation's largest inventory of all terrain tires, wheels, lift kits, and accessories, 4 Wheel Parts serves customers across the country and around the globe. Life is Better Off-Road™. Visit them at 4wheelparts.com or call toll-free 877-474-4821.