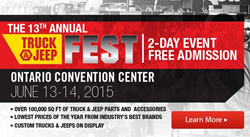 Not only is the Ontario Truck & Jeep Fest bringing the expo back home, but our store and vendor involvement is just phenomenal. It's one of our biggest events every year
Compton, CA (PRWEB) June 09, 2015
Saturday and Sunday, June 13-14, the 4 Wheel Parts Truck & Jeep Fest touring off-road expo reaches Ontario, California for a weekend of event-exclusive pricing on leading brands like Bilstein, hourly parts and accessories giveaways and product demonstrations. The sixth stop of the 2015 tour, Ontario Truck & Jeep Fest follows on the heels of San Mateo, CA, Honolulu, HI, Puyallup, WA, Edmonton, Canada and Dallas, TX and paves the way for Denver, CO and Orlando, FL.
"4 Wheel Parts started out in Southern California and our roots will always be here," says Brent Goegebuer, events director of 4 Wheel Parts. "Not only is the Ontario Truck & Jeep Fest bringing the expo back home, but our store and vendor involvement is just phenomenal. It's one of our biggest events every year and we're really looking forward to it."
The 4 Wheel Parts parts and accessories masters are gearing up for a weekend likely to see record attendance of truck, Jeep and SUV owners as well as off-roaders and enthusiasts. Attendees will have opportunities to score great deals on products from brands they trust like WARN winches and Poison Spyder Customs and learn from on-hand manufacturer representatives about product use, maintenance and new product line features. Admission to Truck & Jeep Fest is always free, inviting the 4x4 community to enjoy displays of fully-customized trucks and Jeeps, product demos, factory-direct pricing and as much as $500,000 of on-hand inventory at discounts seen only the weekend of Truck & Jeep Fest.
Big savings can be had at the Scratch & Dent swapmeet area with discounts as much as 75% on parts with mild aesthetic damage and discontinued products. Every hour, there will be a chance for all in attendance to win free Jeep and truck accessories through event giveaways and free T-shirts will be given to the first 100 people into the building with T-shirt coupon in hand. For 4x4 families and enthusiast adults alike, there will also be a 4 Wheel Parts Greg Adler edition R/C Traxxas racing truck giveaway.
The Ontario Truck & Jeep Fest will be held at the Ontario Convention Center, located at 2000 E. Convention Center Way Ontario, CA 91764. Doors will be open Saturday, June 13 from 10 a.m. to 4 p.m. and on Sunday, June 14 from 11 a.m. to 4 p.m.
For driving directions, event details and to download and print t-shirt coupons and R/C truck giveaway entry forms visit http://www.4wheelparts.com/info/ontario-truck-jeep-fest.aspx.
About 4 Wheel Parts
4 Wheel Parts is the global leader in off-road truck, Jeep and aftermarket performance products. With 69 locations across the U.S. and Canada and growing, 4 Wheel Parts Service Centers install all the products we sell. Maintaining the nation's largest inventory of off-road tires, wheels, lift kits, and accessories, 4 Wheel Parts serves customers across the country and around the globe. Life is Better Off-Road™. Visit us at 4wheelparts.com or call toll-free 877-474-4821.