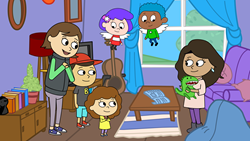 We are thrilled to bring the best of kids' entertainment together with Jewish education.
San Francisco, CA (PRWEB) April 06, 2016
Shaboom! – an innovative animated web series premiering today from non-profit BimBam (formerly G-dcast) — combines the best elements of children's television with wisdom from the Jewish tradition to teach everyday values to children through magic, comedy and silly songs. The first episode, available for free now at BimBam.com/shaboom, is on the theme of "Hachnasat Orchim" – Welcoming Guests. The show also is free to access on YouTube.
Shaboom! episodes feature the "magical sparks" Gabi & Rafael who work to fix the world, while focusing on that episode's theme. Each of the ten children's episodes (about 8 minutes each) is accompanied by a separate video for parents (2 minutes each) that delves into each episode's value, explaining "what's Jewish" and instilling in parents the knowledge and confidence to model the values for their children. Communities around the country also are holding family events over the next weeks and months to watch the episodes together.
View Episode 1 "Hachnasat Orchim" – Welcoming Guests
Visit BimBam.com for more information on Shaboom!, related learning resources, and information on Shaboom! events in your community.
Shaboom! Release Schedule
Mini-Season One: Spring 2016
Episode #01. Welcoming Guests (Hachnasat Orchim) Release 04/06/16
Episode #02. Visiting the Sick (Bikur Cholim) Release 04/13/16
Episode #03. Gratitude (Hakarat Hatov) Release 04/20/16
Episode #04. Giving (Tzedakah) Release 04/27/16
Episode #05. Honor or Respect (Kavod) Release 05/04/16
Mini-Season Two: Fall 2016
Episode #06. Taking Care of Nature (Bal Taschit) Release 09/07/16
Episode #07. Courage of the Heart (Ometz Lev) Release 09/14/16
Episode #08. Peace in the Home (Shalom Bayit) Release 09/21/16
Episode #09. Returning Lost Objects (Hashavat Aveidah) Release 09/28/16
Episode #10. Saying I'm Sorry (Slicha) Release 10/05/16
"We are thrilled to bring the best of kids' entertainment together with Jewish education," says Sarah Lefton, Executive Director of BimBam. "We listened to parents when they told us that they want Judaism that goes beyond the holidays—what they care about is getting through the everyday and raising mensches—great people."
The episodes for children and the matching clips for their parents were designed in consultation with individuals from leading children's education and tech organizations and companies including Sesame Workshop, Amazon Studios, Electronic Arts et al, Pixar, and experts from the research and academic world who study learning and media.
"Shaboom! is a jolt of energy into Jewish family education, and it's an especially major step forward for Jewish media content," says Cathy Rolland, Director of Engaging Families with Young Children at the Union for Reform Judaism (URJ), which is helping to promote Shaboom! through its strong network of Early Childhood Professionals who will be sharing it across hundreds of ECE centers throughout North America. "This is a phenomenal vehicle to reach our youngest learners and their families and positively influence their behaviors and attitudes."
Along with the URJ, other major partners from the Jewish world include the United Synagogue of Conservative Judaism (USCJ), JCC Association, Harold Grinspoon Foundation and the PJ Library Alliance, and InterfaithFamily, among many others. They are all helping to share and build upon the series.
Shaboom! is written by kids' TV veteran Robert Pincombe and produced by Sarah Lefton and staffer Jeremy Shuback. It was inspired by impactful, research-backed shows like Daniel Tiger's Neighborhood Super WHY! and Sesame Street. The series was tested by children's media evaluators Rockman Et Al to help shape the programming to most effectively achieve learning and engagement outcomes with families.
BimBam recently began focusing on entry-level materials for kids, families and adults. Shaboom! is the centerpiece for families, especially those raising Jewish children ages 0-8. Since its founding, the nonprofit has created over 200 animated videos and apps tailored to meet the interests of people curious about the basics of Judaism. Accessible for free on platforms like Youtube, iTunes and Facebook, BimBam's goal is to create a comprehensive free multimedia introduction to Judaism with zero barriers to entry.
Adds Lefton, "Shaboom! is as entertaining as something you'd see on Nick Jr or PBS Kids, but it's packed with Jewish ideas rather than math or reading help. This is where our biggest impact is - bringing people in the door that they're hanging out in front of anyway, aka, their smartphones."
The Shaboom! early childhood initiative has been generously funded by leading Jewish philanthropists and foundations, including the Peleh Fund, the Harold Grinspoon Foundation and the PJ Library Alliance, the Bernstein Family Foundation (DC), The Covenant Foundation, the Jewish Federation of Silicon Valley and one anonymous foundation. The Lippman Kanfer Foundation for Living Torah made the creation of parent resources possible.
Forbes called G-dcast, as it was known previously, "the Schoolhouse Rock for Jews," and its approach and products been featured on NPR, in the Wall Street Journal and CNN.com. The studio is a five-time-selected participant in Slingshot, an annual compilation resource guide to Jewish Innovation.
Lefton, who founded the organization in 2008, is a recipient of the Joshua Venture Group fellowship for Jewish social entrepreneurs. She was named a 2012 recipient of the Pomegranate Prize for exceptional young Jewish educators and was named one of the "Forward 50" most influential Jews by the Forward newspaper. Prior to founding G-dcast, Lefton produced projects for The New York Times on the Web, the Village Voice, Princess Cruises, and several robotics companies; she also created the popular YO SEMITE tee shirt.
###