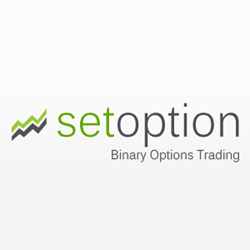 Reliable Binary Options Signals for SetOption Customers
Carouge, Switzerland (PRWEB) October 22, 2013
SetOption has partnered with the leading signals provider Faunus Analytics. This partnership allows SetOption traders to receive the highly reliable signals completely free of charge.
Yet again, SetOption made the trading easier and more profitable, in addition to unmatched benefits already provided - 50% Bonus on every deposit, 50% Insurance, monthly Cash Backs, and more.
Binary Options Signals can approve or deny strategy core, support market understanding and analyze the pivot points of a trend.
There are a number of advantages of using binary signals, for instance time duration for the binary trade. These signals are channeled throughout the trading day so that the traders have abundant time for making perfect decisions. However, beginners may find these signals rather technical at first, but with the passage of time, they become easy to understand and bring about an important change in trading skill.
Free Binary Option Signals are comparatively new. At first it was thought that only expert traders used these signals and so new traders were as a rule unenthusiastic in integrating these signals in their trading, but the ability of these signals cannot be ignored.
The algorithms of Faunus Analytics have been an invaluable tool for professional traders around the world for many years.
Basis of the system is a unique technology of financial scoring, developed by Faunus Analytics. Financial scoring is an adaptation of classical (banking) scoring, which is widely used in the largest financial institutions around the world. A more popular title of this technology is a "data mining" - a set of statistical methods for industrial processing and analyzing vast amount of data.
Financial scoring allows to simultaneous forecast hundreds of time series, including exchange markets quotations. Despite the almost complete automation process, the system is constantly watched by human analysts, making adjustments in accordance with current market fundamentals.
Signals are emailed on Forex, Commodities, Stocks and Indices at different times throughout the day (up to 4 times a day), when there are assets to reach the high reliability status. There is no limit or maximum amount of signals that are sent per email.
Unique technology of financial scoring has almost no limits on a number of processed and forecasted time series, that's why trade signals are available for more than 200 assets.