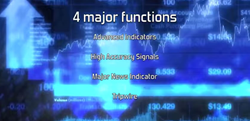 You do not find many trading rooms or signal providers who give you a free trial without the need of signing up with a specific broker or having any other instant commitments
London, UK (PRWEB) November 06, 2014
Blue Sky Binary Group, a 24-hour members-only binary options trading group, recently announced the launch of Binary Dashboard, a fully automated trading assistant for binary options and FX traders. The dashboard, which is the first of its kind, offers four powerful features that can be found inside a neatly tailored web-based solution.
The new Binary Dashboard's impressive features can be assets to traders interested in generating extra income on their binary accounts. These functions include custom designed indicators that show profitable chart setups. The "Waterfall," "Channel Surfer," and "Breakout" indicators allow clients to partake in 20 to 30 trading opportunities every day.
Additionally, the dashboard sends the user about 10 to 20 signals per day, which are delivered in simple call/put or long/short format with varying expiries. The trade signals are tailored for binary options but can also be used for scalping purposes in FX. The Binary Dashboard sends these alerts 30 minutes in advance before any major news event is about to occur. In this way, trades can occur safely—and traders have ample time to prepare themselves to trade major news events.
Lastly, the Binary Dashboard's Tripwire function allows traders to set desired price levels for currency pairs. Traders receive audio alerts when those price levels are met, which enables them to gain better entry prices on trades. When combined, these advanced indicators can substantially increase a trader's percent ITM/win rate.
For quite some time now, Blue Sky Binary Group has established itself as a trusted binary options trading group. The company works tirelessly to answer all binary-market and binary-account questions that its subscribers may ask and aims to provide them with the best possible advice. Clients who have used Blue Sky Binary Group's services have always praised the company's results.
"You do not find many trading rooms or signal providers who give you a free trial without the need of signing up with a specific broker or having any other instant commitments," stated Gerasimos Tzakis in his review of the company. "I personally signed up to receive professional signals that would boost my success rate and I am very pleased by the results. In addition to that, I found that the team and the people here are extremely helpful and friendly. You can ask any trading related question from them and you will receive an answer and people share their experience. I have gotten much more out of the service than I expected and highly recommend this to any binary trader."
Individuals interested in learning more about Blue Sky Binary Group and its binary solutions can visit the company's website for additional information. Clients are also welcome to contact Blue Sky Binary Group with questions or concerns about its products using the company's online message form.
About Blue Sky Binary Group:
Blue Sky Binary Group is the world's first 24 hour members-only binary options trading group that allows its clients to generate a few hundred to a few thousand dollars each day on their binary accounts by following the trade recommendations of senior and experienced binary option traders. All questions that clients may have on the binary markets or specific trades that they are about to take can be submitted to the senior traders in order for them to get a second opinion. The company does not force its clients to sign up to a broker or have any up-sells. It is not an affiliate marketing scheme/scam—the group is comprised of traders intent on building close relationships with its subscribers and making money together. For more information, please visit http://www.binarydashboard.com