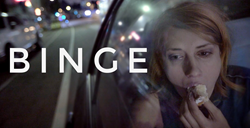 The messages, emails and comments that we've been receiving from people who suffer from eating disorders have been so touching and overwhelming that I think I'm going to spend a week crying when it all sets in.
Los Angeles, CA (PRWEB) December 07, 2016
Which is exactly what Angela Gulner and Yuri Baranovsky - the writers and creators behind the newly-released, independent TV Pilot, Binge (http://www.bingetheseries.com) – have done. With the first episode, at least. The results? After less than a week of self-releasing, the episode has over ten thousand views and rave press in popular media outlets like Refinery29, xoJane, the Establishment, ThoughtCatalog, Indiewire and more.
The Pilot (seen here: https://youtu.be/aN9syJfWp8U) introduces audiences to Angela Mills (played by Gulner), a flawed mess of a human being who is desperately trying to hold together her unravelling life by binging and purging her way through it. But when Angela drunkenly signed herself up for rehab one night, things begin to get even more complicated.
A dark, in-your-face comedy that unabashedly explores the messy nature of eating disorders and the affect they have on friendships, health and life, Binge was based on Angela Gulner's real life 10-year battle with bulimia and her subsequent trip to a partial-hospitalization clinic. The Pilot was directed by Baranovsky and produced through his production company, Happy Little Guillotine Studios (http://www.hlgstudios.com).
The team had a very specific reason to self-produce and independently release the series:
"Buyers loved the Pilot script but were hesitant to pull the trigger on a season," says Baranovsky, "Stories about women – particularly dark, honest and messy stories – are very hard to sell. But we knew we had something special here, so we thought – why not take it straight to the community?"
And it's the community that's given the series its legs. "The messages, emails and comments that we've been receiving from people who suffer from eating disorders have been so touching and overwhelming that I think I'm going to spend a week crying when it all sets in," says Gulner, whose 10-year battle with bulimia is the inspiration for the project, "We really believed in this project, but I don't think we ever expected this kind of response."
In fact, the response has been so positive, the team has even put together examples of some of their favorite comments and messages on their website (https://www.bingetheseries.com/what-people-are-saying/). "This pilot just made me laugh/cry," reads one, "because for the first time, I don't feel completely alone with this stuff…"
But the Pilot's successful release is just the first step for Gulner, Baranovsky and the HLG Studios team. Their ultimate goal is to get Binge, which Indiewire suggests could, "hold its own against any Showtime series" funding for a full series run.
"We're not picky, we'll take calls from Netflix, Amazon, Fullscreen, TBS, Lifetime, hell, any rich aunts who want to invest in a TV show. We want to work with anyone who is brave enough to tell this story," says Gulner, "There are millions of people suffering from eating disorders, and we want to show them that it's okay to laugh, to cry and above all else, to go get treatment."
About the Creators:
Angela Gulner is a writer, actor, feminist, and recovering bulimic living in LA. She received her MFA in Acting from the ART/MXAT Institute at Harvard University and her BA in Theater, Psychology, and Women's Studies from St. Olaf College. She's worked in theaters all over the world, including the American Repertory Theater, the Moscow Art Theater School, A Noise Within, and Kingsmen Shakespeare Company. On television, Angela has appeared in Silicon Valley, Stalker, and Glee. She's committed to writing and producing content for messy, flawed, loud, and underrepresented women and communities. And to laughing. A lot.
Yuri Baranovsky and HLG Studios have produced stories for digital and since digital stories were a thing. From two seasons of the hit branded Hulu series, Leap Year, which was eventually sold to the USA Networks for a third season, to their latest, upcoming series, Dan is Dead with Maker Studios, they have spent over 10 years helping to drive the digital entertainment revolution. When they're not making narrative shows, Yuri and the company produces innovative branded campaigns like the Slurpee Unity Tour, which garnered 1.7 billion media impressions, was shortlisted by Cannes Gold Lion, and won the PRO Campaign of the Year Award and many other campaigns for companies like Samsung, Arbys, Reebok, Purina and more.