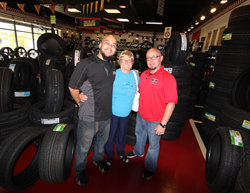 We are so happy that we could help Ms. Britt get new tires on the van.
Tampa, Florida (PRWEB) July 03, 2015
Following an afternoon of light-hearted fun at a weekly bingo game at the Lake Ashton Retirement Community Club House, 88 Year old Ethel Britt walked out to find two of the tires on her van had been slashed, leaving the vehicle un-driveable. The accused is an 82-year-old Florida man that took an ice pick to 88-year-old Ethel Britt's van because he claimed she was sitting in his favorite bingo seat..
"I just couldn't believe someone would do that." Said Ms. Britt. "I was shocked and I had no idea that he was that mad." The story has gained national attention from the likes of CNN on May 29th and People Magazine on May 31.
When syndicated radio personality, Bubba The Love Sponge heard about the incident, he immediately reached out to his friends at RNR Tire Express and Custom Wheels to see how they could help. "When we heard about this from Bubba, we had our team reach out to Ms. Britt and let her know that we wanted to put new tires on the van, at no cost to her." Said Larry Sutton, President and CEO of RNR. "This community has been so good to us, we are happy to do something that helps a local citizen and we really appreciate Bubba and his team getting us involved."
The RNR system has a number of franchisees who have given back to the community through various programs and seasonal events. "Our business philosophy is based on helping people in the communities we serve." Said Sutton. "If a business is not willing to give back to the communities that support them, you need to wonder why they are in business in the first place?"
ABOUT RNR Tire Express and Custom Wheels
RNR currently has 14 franchisees operating 64 locations and 10 corporate stores throughout the country. RNR customers are provided a program that allows them to pay for the tires and wheels that they want in easy weekly, bi-weekly or monthly installments with no credit hassles. In addition, customers are offered the lowest cash prices on wheels or tires and have a huge selection of both new and previously rented merchandise. RNR carries just about every major brand in the custom wheel and tire industry, including: Dub, KMC, Lexani, Michelin, Goodyear and many more. For Information on RNR, contact our Corporate Offices at 813.977.9800.