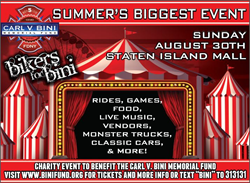 We believe in the Bini Fund's mission and are proud to support them.
New York, NY (PRWEB) August 20, 2015
The Carl V. Bini Memorial Fund, a Staten Island-based non-profit, announced that they will be hosting a special Bikers For Bini kickoff event at the Staten Island Mall in partnership with the borough's largest jewelry store, Gerald Peters. The event will take place Saturday, August 22nd from 10am-9pm within the newly renovated Gerald Peters, where patrons will have the opportunity to purchase Bikers For Bini admission tickets, raffle tickets to win either $12,500 or a brand new Harley-Davidson Heritage Softail Motorcycle, and a portion of all sales generated that day will be donated directly to the charity. The official Bikers For Bini Event will take place on Sunday, August 30th from 11am-6pm in the Staten Island Mall Parking lot.
"On behalf of the entire Bini organization, I would like to thank Gerald Peters, General Growth Properties, and the Staten Island Mall for their continued support of our fundraising efforts and especially for hosting this event," said Massimo DiDonna, President of The Carl V. Bini Memorial Fund. "Money raised from last years fundraising events including Bikers For Bini allowed us to underwrite a $35,000 cafeteria renovation at P.S. 37. This year we intend to raise even more to help the Staten Island community."
In addition to this Saturday's event, both Gerald Peters and The Staten Island Mall (General Growth Properties) are also official sponsors of the August 30th event.
"We believe in the Bini Fund's mission and are proud to support them," said Gerald Amerosi, Jr., President of Gerald Peters. "Their ideals are in line with our commitment to helping the borough through philanthropy, and I encourage everyone to visit us this Saturday, and of course on the 30th."
Bikers for Bini will open with a motorcycle run and then feature live music, rides and games for the kids, food, vendors, a classic car show and more. In addition, this year guests will be able to view the 150th Anniversary Edition FDNY Firetruck and Ambulance, and witness the unveiling of Lumberjack, a monster truck, for the first time anywhere.
General Admission tickets are a $10 donation for adults and children 12 and under are free. Tickets and more information are available online by visiting http://www.binifund.org, purchasing them within Gerald Peters, or at the gate the day of the event. You may also enter to win a free ticket by texting the word "BINI" to the number 313131. A winner will be selected every 24 hours via text.
About The Carl V. Bini Memorial Fund:
The Carl V. Bini Memorial Fund is a 501(c)3 not-for-profit organization created to honor the heroism of fallen firefighter Carl V. Bini and continue his life-long belief in helping others. The Bini Fund supports the community through scholarships, emergency grants and special needs assistance. The Fund is uniquely positioned to adapt to the changing needs of communities, especially in times of crisis.
Dial: 718-412-1851
Visit: http://www.BiniFund.org