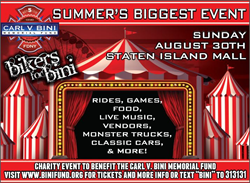 We design this event with the end goal of having something for everyone to enjoy.
Staten Island, NY (PRWEB) August 27, 2015
The Carl V. Bini Memorial Fund, a Staten Island-based non-profit, announced the latest additions to the lineup for its annual charity event, Bikers For Bini. In addition to rides, games, vendors, food, live music, classic cars and a motorcycle run, the event will also feature an interactive RAPTOR F-22 Mini-Jet display courtesy of the U.S. Air force, the 150th Anniversary FDNY Firetruck and Ambulance, and the unveiling of Monster Truck Lumberjack, which will be on display for the first time anywhere. The event takes place on Sunday, August 30th from 11am-6pm at The Staten Island Mall.
"We design this event with the end goal of having something for everyone to enjoy," said Massimo DiDonna, President of The Carl V. Bini Memorial Fund. "It's a day for the community to come together with friends and family to not only have fun, but more importantly know that the money raised will be used to help fellow Staten Islanders in times of need."
In 2014, over 5,000 people attended the event and $35,000 of the proceeds raised that day was allocated to renovate the cafeteria at P.S. 37, a school serving disabled children, and thousands more pumped into the community through scholarships and immediate needs grants.
"Our long outstanding partnership with the Carl V. Bini Memorial Fund is a proud and honorable one," said David Albertson, Senior Marketing Manager of The Staten Island Mall, a General Growth Property Shopping Destination. "The work this organization does for the Staten Island community is outstanding, and we support this organization in honor of a great husband, father, firefighter and family man."
The Staten Island Mall entered the Bikers For Bini Event into the prestigious U.S. Community Support Awards presented by the International Council of Shopping Centers Foundation, and won both the Eastern Region & Overall United States Community Support Award. Both organizations received national acclaim and the Bini Fund was also the recipient of a $10,000 grant.
General Admission tickets are a $10 donation for adults and children 12 and under are free. Tickets and more information are available online by visiting http://www.binifund.org or at the gate the day of the event. You may also enter to win a free ticket by texting the word "BINI" to the number 313131. A winner will be selected every 24 hours via text.
About The Carl V. Bini Memorial Fund:
The Carl V. Bini Memorial Fund is a 501(c)3 not-for-profit organization created to honor the heroism of fallen firefighter Carl V. Bini and continue his life-long belief in helping others. The Bini Fund supports the community through scholarships, emergency grants and special needs assistance. The Fund is uniquely positioned to adapt to the changing needs of communities, especially in times of crisis.
Dial: 718-412-1851
Visit: http://www.BiniFund.org