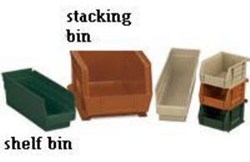 For any green corporation, recycled bins are a must
New York, New York (PRWEB) August 13, 2013
It is time for A Plus Warehouse to announce its product of the day. Product of the day brings attention to various items. With so many products offered at A Plus Warehouse, the company enjoys showing off only the best. Having a product of the day helps customers learn more about products offered at A Plus Warehouse. Today's product of the day is Akro recycled bins. These bins are great quality and help the environment. According to Ed Stairman, president of A Plus Warehouse, " For any green corporation, recycled bins are a must." Do a good deed for the environments, purchase recycled bins today.
So often, customers may find it difficult to stay green. This product just made that job much easier. Not only is this product eco friendly, but it is also less expensive than other A Plus Warehouse bins. The product is also made of 100% recycled material. Even though recycled bins may be less expensive, they are still great quality. These plastic bins are available in three different colors including hunter green, sandstone, and terra cotta. All of these attractive colors are shown in the picture to the right. This item is also in stock in shelf and stacking bin type. Lengthwise and width dividers are also available.
Stacking bins also have clear bin lids available on request. For more information, do not hesitate to speak with one of the company's sales people. Almost every customer needs storage bins, and there is no better storage bin than Akro bins.
Akro is a great manufacturer that created A Plus Warehouse's recycled bins. Akro-Mils, more commonly known as Akro, makes storage equipment that makes organization a breeze. Akro has an extremely broad range of products that customers enjoy. The company is an industry leader in providing metal and plastic products. The company manufactures products nation wide. Akro has only the best quality products. The company is always brainstorming new ideas for products. Old is boring, this is why Akro always tries to make new products. When dealing with customers, Akro is aware that a customer is a person, not just a number. This is refreshing for many customers. Humans like human interaction. With a trusted manufacturer such as Akro, customer can be confident the recycled bins are great products.
A Plus Warehouse is the operator of http://www.apluswhs.com and distributes materials handling and storage equipment nationwide and throughout Canada. The sales staff at A Plus Warehouse is available at 800-209-8798. A Plus Warehouse has been in constant operation since 1996.