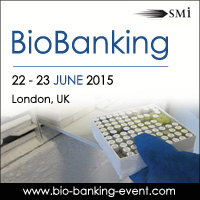 "The diverse backgrounds of the speakers should make it an excellent conference" – KCL Infectious Diseases Biobank
London, UK (PRWEB UK) 13 May 2015
SMi's 5th annual BioBanking show taking place next month in London will explore cutting edge advances and the latest initiatives in biobanking processes. The agenda features over 10 hours of compelling content; speakers representing 10 leading biorepositories; 1 interactive workshop plus over 5 hours of valuable networking.
With an impressive speaker line-up featuring the European Sperm Bank, Sanofi, the MHRA, UK Biobank, brain biobanking pioneer - Dr Rivka Ravid, plus many more, this year's event has attracted a lot of interest. Here's what the industry is saying about BioBanking 2015:
"It addresses some of the key issues that face biobanks within the UK" – Arden Tissue Bank
"This meeting will deal with all major issues affecting Biobanks including an update of Standard Operating Procedures (SOPs)" – Brain Bank Consultants
"So many people interested in this topic and experts with differing expertise sharing their knowledge" – University of Leicester
"Wide range of attendees, the scope of discussions and the opportunity for networking" - Wide cells Ltd
"Opportunity to hear about the bio banking industry and discuss key issues with people in the field" – National Institute for Biological Standards & Control
"The diverse backgrounds of the speakers should make it an excellent conference" – KCL Infectious Diseases Biobank
Click here to download a brochure and see the latest agenda.
A snapshot of confirmed attendees include:
Crown CRO OY, Institut De Pathologie Et Genetique, Institute Of Child Health, Kings College London, Medical University of Graz, National Institute For Biological Standards And Control, Netherlands Metabolomics Centre, Royal Dutch Academy of Sciences, Oxford University, University Hospital Coventry & Warwickshire NHS Trust, University Of Leicester, University of Nottingham, University Of Turku
For further details regarding the full speaker line-up or to register, visit http://www.bio-banking-event.com
BioBanking
22 - 23 June 2015
Holiday Inn Regents Park Hotel, London UK
http://www.bio-banking-event.com
Biobanking 2015 is proud to be sponsored by Autoscribe, Hamilton Robotics and Imperial College London
---END---
About SMi Group:
Established since 1993, the SMi Group is a global event-production company that specializes in Business-to-Business Conferences, Workshops, Masterclasses and online Communities. We create and deliver events in the Defence, Security, Energy, Utilities, Finance and Pharmaceutical industries. We pride ourselves on having access to the world's most forward thinking opinion leaders and visionaries, allowing us to bring our communities together to Learn, Engage, Share and Network. More information can be found at http://www.smi-online.co.uk