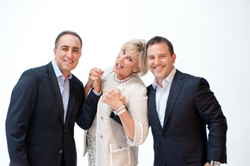 Prime Essentials is celebrating a staggering 18 years on the market.
Massachusetts (PRWEB) August 11, 2015
It's been 18 years since Massachusetts-based health and lifestyle brand Bioceutica launched their unique range of natural supplements onto the US market. Worried that consumer choice was limited, and that a 'one size fits all' approach to nutrition wasn't fully taking care of the public's needs, Bioceutica developed a breakthrough solution. The brand worked with doctors, registered dietitians, certified clinical nutritionists and biochemists to create a series of pharmaceutical-grade nutritional supplements targeted to specific and occasional health concerns. Bioceutica understand that every person is unique and as such, their biochemistry requires a tailor made blend of vitamins and minerals in order to restore their health and vitality. After receiving huge commercial success with US consumers, the product that started it all, Prime Essentials is celebrating a staggering 18 years on the market.
Prime Essentials still remains a core foundation in Bioceutica's My Vitamins supplement range. Prime Essentials is a high quality multivitamin supplement that is designed to "prime" the metabolism, ready for the introduction of Bioceutica's other customized supplements. To provide the public with a fully customized health and nutrition plan Bioceutica also offer their patented PrivaTest System which analyses each consumer's critical metabolic markers. From these results the brand are able to tailor a unique custom nutrition program which is perfectly balanced to restore each consumer's individual biochemistry, leading to a healthy body and mind. To give consumers the best start to their journey to better health Bioceutica strongly recommends their Prime Essentials as the ideal interim product which can immediately improve their consumers' nutritional health whilst they wait for their custom essentials program. unlike many hard-to-absorb drugstore store brands, Prime Essentials are a natural source of the highest-quality, most bioavailable forms of essential nutrients and anti-oxidants meaning that Prime Essentials gets to work much faster and provides results consumers can see. It is these results and the products unique complex that has driven Prime Essentials to be one of Bioceutica's most popular and best loved 'My Vitamin' Supplements.
About Bioceutica:http://www.bioceutica.com/Company/OurMission.aspx
Bioceutica believe it's so important to lead a healthy and well-balanced lifestyle, and believe that their natural, custom nutritional supplements are a fantastic way for people to take care of their health and live a more vibrant and positive life. Maintaining a healthy nutritional status boosts energy and strengthens the immune system, allowing people to achieve more and live a life without limits. A nutritional balance also helps focus the mind, increases endorphins helping people to overcome the pressures of daily life.
Bioceutica is a leading force in the natural health and nutrition world, offering consumers a range of products specially developed to target and address health concerns. As well as their range of vitamins and supplements, the brand has also developed a toxin free range of skincare and cosmetics, developed using only the very best ingredients from nature. The brand is committed to helping men and women from across the US achieve wellness both inside and out and to do this Bioceutica is keen to spread their health focused message to a wider audience. The brand is currently on the lookout for health conscious, mindful people to become Bioceutica consultants and help the US take control of their health and wellness