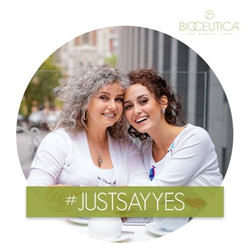 Being part of the Bioceutica story has helped transform the lives of some of their consultants both past and present.
(PRWEB) April 05, 2016
As one of America's most exciting health and lifestyle brands Bioceutica has played a huge role over the years in helping people make positive changes in order to achieve their health goals and wellbeing. However, the brand are also now keen to promote how they can help people to improve their lifestyles too and have recently announced the launch of their new 'Just Say Yes' campaign across Facebook, Twitter and Instagram.
About Bioceutica: https://www.bioceutica.com/
The 'Just Say Yes' Campaign was launched after the firm recognised that when it comes to reaching transformative, life affirming goals, when asked many people are guilty of giving the same answer - 'Not Yet' . Bioceutica are determined to help people turn each 'not yet' into 'yes' and over the course of ten weeks will be offering encouragement, inspiration and support through their social media page.
The 'Just Say Yes' Campaign will also focus on the opportunities Bioceutica themselves can offer people who are looking to take on the challenges of a new rewarding and independent career path. Over the coming ten weeks Bioceutica will be revealing the benefits of joining their community and reveal how being part of the Bioceutica story has helped transform the lives of some of their consultants both past and present.
Bioceutica believe that there are many reasons why becoming a Bioceutica Independent consultant can have such a positive impact on a person's lifestyle. Being your own boss and choosing the hours you work allows people to make time for what's important, such as family and friends. Bioceutica also offers people the chance to make new friends through their unique community, all of whom share the same values and ideals of a healthier, happier world. Working with Bioceutica also offers people the opportunity to start their own businesses, something which many people dream of doing yet due to background or financial circumstance are unable to commit to. This financial freedom puts people in control of their futures, allowing them to build the life they want and truly live a life without limits.
Bioceutica captures the spirit of health, well-being and freedom within their range of skincare products, cosmeceuticals and nutraceuticals. Every product released by the brand is safe for the environment and offers consumers the opportunity to live a healthy and natural lifestyle that caters to their body's unique needs. By refusing to deliver 'one size fits all' products and maintaining their commitment to tailored nutrition Bioceutica has grown significantly and become a firm favorite among U.S consumers looking for health and beauty products that are as unique as they are.