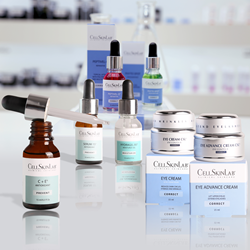 CellSkinLab is about more than beauty. With nearly 30 years in the scar management industry, we understand that the healthier the skin, the more rapidly, and more completely it heals after trauma.
Las Vegas, NV (PRWEB) January 03, 2017
CellSkinLab Clinical Skincare focuses on improving the health of the skin at the cellular level. The CSL anti-aging product line features topical antioxidant and polypeptide serums, as well as eye creams for a variety of wrinkles, fine lines, dark spots, under eye bags and other early signs of aging skin. CSL focuses on three distinct segments of improving skin health—prevention, correction and moisturizing.
Biodermis will launch the product line with five pharmaceutical grade skin serums, made in the USA and two eye creams, made in France. The skin serums cover all three segments of the line, prevent, correct, and moisturize.
In the prevent lineup are CSL Serum 15 and CSL C+E. Serum 15 is a 15% L-ascorbic acid (high potency Vitamin C) based antioxidant serum, designed for normal to oily skin, and CSL C + E adds 1% alpha tocopherol, a form of Vitamin E, for treating dry skin. In the correct lineup are CSL Peptivel-Q, an ultra-lifting polypeptide serum for reducing expression lines and wrinkles, and CSL Phyto Spot, a botanical formulation for reducing dark spots and improving skin tone. Finally, CSL Hydragel B5 completes the initial offering for the moisturize component of the product line. Hydragel B5 is an oil-free, hyaluronic acid and Vitamin B formulation designed to deeply hydrate the skin.
"CellSkinLab is about more than beauty. With nearly 30 years in the scar management industry, Biodermis understands that the healthier the skin, the more rapidly and completely it heals after trauma. The introduction of CellSkinLab is the next logical step in the evolution of Biodermis as a skincare company."
— Jeff Schleuning, Ph.D.
Partner, Biodermis
The two eye contour creams, CSL Eye Cream and CSL Eye Advance Cream, are part of the correct segment of the product line. CSL Eye Cream is designed to reduce fine lines, wrinkles, puffiness, dark circles and under-eye bags in the lower eye contour. CSL Eye Advance Cream focuses on the upper eyelid, providing a lifting effect while strengthening and lengthening the eyelashes.
"CellSkinLab represents a concerted effort to offer skincare solutions backed by science. CellSkinLab products support the Biodermis philosophy that healthy skin starts below the surface, with nourishment at the cellular level."
— Sean Mahoney
VP Domestic Sales & Marketing, Biodermis
The CellSkinLab Clinical Skincare anti-aging product line offers a pharmaceutical grade solution at a very competitive price. CellSkinLab exclusive anti-aging formulations repair damage from photoaging, free radicals and other factors that accelerate early aging of the skin. Biodermis plans to unveil new products throughout 2017 through various media channels and trade shows, including AACS in San Diego, AAD in Orlando, ASAPS in San Diego and ASPS in Orlando.
Established in 1988, Biodermis has been recognized for its innovative contributions to the scar management, post-operative and skincare industries for nearly 30 years. For more information regarding CellSkinLab, log on at biodermis.com or call (702) 260-4466.