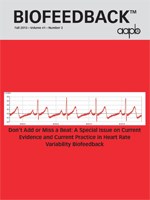 The Centers for Disease Control and Prevention estimates that 3.8 million sports-related concussions occur in the United States annually...
(PRWEB) October 09, 2013
Biofeedback – When a football player slams his head into the ground after being tackled, he may feel dazed and forget the previous plays of the game. But his concussion is ultimately a physiological injury that changes the way the brain works.
Researchers and clinicians are recognizing this and have been focusing on treatments to resolve not just the physical symptoms but also the underlying physiological imbalance that results from such a head injury. An article in the current issue of the journal Biofeedback reports on a clinical case study using one such treatment, known as heart rate variability (HRV) biofeedback. The authors argue that this treatment can help athletes suffering from postconcussion syndrome (PCS), which occurs when concussion symptoms last at least three weeks. Previous research has shown that concussion causes a dys-regulation of the autonomic nervous system, and HRV biofeedback moderates that problem.
The study comes amid increasing concern about how sports-based concussions are diagnosed and handled. A U.S. senator is proposing a law that would require schools to prevent students from playing sports if a concussion is suspected, and several states have passed or are considering legislation that would require baseline concussion testing for high school athletes. The National Football League also recently agreed to a $765 million settlement over concussion-related brain injuries among its retired players.
The Centers for Disease Control and Prevention estimates that 3.8 million sports-related concussions occur in the United States annually, and the authors of the current study note that up to 10% of such injuries develop into PCS. For their study, they treated and observed a 42-year-old athlete who suffered her first concussion during a practice. She was prescribed bed rest and an antidepressant yet reported increased PCS symptoms at a checkup more than three months after the concussion occurred.
For the study, the patient learned breathing exercises to improve her HRV. Recent studies have found that HRV biofeedback reduces stress and anxiety among athletes, which could increase their sense of control over their symptoms and lead to a speedier recovery.
After 10 weeks of HRV biofeedback, the patient's headaches and other postconcussion symptoms had decreased while her vigor had increased. The authors note that one of the most dramatic changes was from severe to mild depression.
The authors attribute these changes to the HRV biofeedback and suggest that it would be a useful part of PCS treatment, particularly compared to antidepressants and sleep aids that simply treat the symptoms of concussion. They recommend a randomized, controlled trial be conducted to further study the effectiveness of HRV biofeedback.
Full text of the article "A Preliminary Study: Heart Rate Variability Biofeedback for Treatment of Postconcussion Syndrome," Biofeedback, Vol. 41, No. 3, 2013, is available at the journal website.
###
About Biofeedback
Biofeedback is published four times per year and distributed by the Association for Applied Psychophysiology and Biofeedback (AAPB). AAPB's mission is to advance the development, dissemination, and utilization of knowledge about applied psychophysiology and biofeedback to improve health and the quality of life through research, education, and practice. For more information about the Association, see http://www.aapb.org.