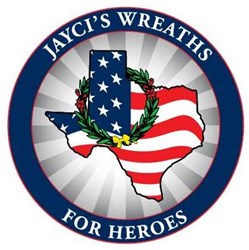 San Antonio, TX (PRWEB) August 22, 2013
Crime Clean of Texas Crime & Trauma Scene Cleaning is proud to be a business sponsor for Jayci's Wreaths for Heroes. Jayci's Wreaths for Heroes is a non-profit organization that honors veterans by placing wreaths on headstones at National Cemeteries during the Christmas season. Crime Clean of Texas is a sponsor for Jayci's Wreaths for Heroes, and also provides the domain http://www.wreathsforheroes.org, furnishing all technical support and costs associated with hosting and maintaining the website.
When Jayci Derby was 11, she visited her grandfather's grave site at Fort Sam Houston National Cemetery and noticed that many of the headstones were not adorned with wreaths. Jayci set out to change that. She contacted Wreaths Across America and asked what she could do to insure that more veteran headstones were decorated. Shortly thereafter she was appointed the Youth Ambassador for Wreaths Across America, not long after founded the local chapter of Jayci's Wreaths for Heroes.
Jayci works tirelessly throughout the year promoting the Wreaths Across America/Jayci's Wreaths for Heroes cause, and has enlisted a "youth army" to engage other young people to be involved and raise funds. By applying for grants and requesting donations at fundraising events, Jayci has raised over $20,000 in two years for her organization. On National Wreaths Across America Day, Jayci – along with many other volunteers – personally places wreaths on veteran headstones. Her goal this year is simple: 'to raise enough money to have one more wreath than she had last year.' Someday she would like to see a wreath on each of the headstones at Fort Sam National Cemetery – a tribute to the more than 130,000 heroes buried there.
Among her many accomplishments, Jayci is proud to be one of the recipients of the Silver and Black Give Back Team-Up Challenge Championship in the Summer 2012 sponsored by the San Antonio Silver Stars. In May 2013, Jayci received the Excellence in Service and Leadership Award from Generation On, A Points of Light Enterprise for her work and dedication to Jayci's Wreaths for Heroes and Wreaths Across America. On August 1, 2013, 13 year old Jayci Derby was featured in the San Antonio Express-News for winning a college scholarship from the Kohl's Cares Scholarship Program, read more: http://www.mysanantonio.com/default/article/S-A-girl-13-wins-national-scholarship-4700837.php
Crime Clean of Texas is challenging other businesses to honor America's veterans by supporting Jayci's Wreaths for Heroes/Wreaths Across America by becoming a small business or corporate sponsor. No donation is too small. Donations in any amount are accepted, and a wreath can be sponsored for only $15.00. Get more information on how to sponsor or make donations at Jayci's Wreaths for Heroes.
The awards and scholarships that Jayci has received are a testament to her hard work and dedication to honor America's veterans. This year National Wreaths Across America Day is on Saturday, December 14, 2013.
About the company:
Crime Clean of Texas provides discrete crime, death and suicide cleanup services. Understanding that clients are going through a very traumatic time, Crime Clean will do everything possible to ease the process. Their highly trained technicians are compassionate and understanding, and have been caring for grieving families and their properties since 1995. The technicians responding to calls are among the most experienced Hazardous Materials Certified/Bio-Hazard Cleanup Specialists in the field today. All Crime Clean of Texas technicians are drug and background checked, and will arrive in unmarked, fully equipped Commercial vehicles, fully prepared to help with anything clients need. Crime Clean is bonded, fully insured, and Better Business Bureau accredited with an A+ rating. Visit their website for more information, http://www.crimecleanoftexas.com/ .