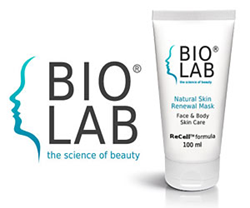 Natural complex with skin rejuvenation patented formula ReCell to address a host of skin needs, from dryness to breakouts to fine lines, and everything in between!
San Francisco, California (PRWEB) June 30, 2014
Bio Lab, the exotic natural mask, quickly became a hit in the USA after it was voted product of the month by several beauty magazines. The revolutionary complex, now available in Europe, is expected to establish itself as a leading brand on both sides of the Atlantic.
According to customer reviews the mask successfully deals with most common skin problems, such as signs of aging, acne-prone complexion, discoloration and severely dry skin. With its tried-and-tested formula Bio Lab Mask is the ideal treatment for all skin types, even the most sensitive.
The state-of-art breakthrough cell technology developed in California combines six exotic ingredients to combat the most common skin concerns. The formula behind Bio Lab Mask, a complex of snail slime, stem of oak tree roots, caviar extract and sheep placenta, is reinforced by HA (hyaluronic acid or hyaluronate) and deep sea water for maximum anti-aging efficacy.
The exclusive patented technology slows the chemical process that causes unwanted muscle contractions, and in turn results in reduction of wrinkle depth, quicker regeneration of scars and stretch marks and improvement of the skin's overall appearance.
For those curious to check out whether the new mask is worth the praise it has received – it can be ordered online through the company's official website: http://www.biolabmask.com/