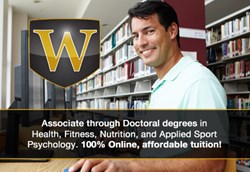 Health, fitness wellness and coaching professionals must continue their education to stay on the cutting edge of their fields.
Rancho Santa Margarita, CA (PRWEB) September 03, 2013
Bodies that move are healthier bodies. For those interested in the study of how the body moves and performs, Wexford University online now offers continuing education and a Certificate of Advanced Achievement in Kinesiology for Health, Fitness and Wellness Professionals. The course focuses on the study of muscles, bones and joints and movement.
Kinesiology for Health, Fitness and Wellness Professionals is open to anyone; more details and online registration is available at http://wexford.edu/continuing-education-courses-for-health-fitness-personal-training-nutrition-and-sports-coaching-professionals/.
"The human body is a pretty amazing thing, and this new continuing education course from Wexford University offers the latest on movement and muscles groups," said Jack Bauerle, Chancellor of Wexford University. "At Wexford, we enjoy offering a variety of continuing education courses from a university that can complement any education, career or interest."
The Certificate of Advanced Achievement in Kinesiology for Health, Wellness and Fitness Professionals also addresses the physiological and mechanical principles of human movement and may be of interest to anatomists, athletic trainers, physical therapists, physicians, nurses, massage therapists, coaches, strength and conditioning specialists, performance enhancement coaches, physical educators, and others in health-related fields.
"The more you know about how the body moves and performs, the more you can help others and yourself get stronger, more efficient and more comfortable in their bodies. That's what the study of kinesiology is all about," Bauerle added. "Even better, Wexford University offers flexible and affordable online education, giving students a convenient and effective learning option."
Each Wexford University online continuing education courses lasts about 10 weeks.
About Wexford University
Wexford University is dedicated to providing world-class education through cutting-edge technology, offering direct application degree programs in an accelerated format with 100 percent online learning to save time and money. Programs include an associate of arts degree in Fitness Training, bachelor's degree in Health and Fitness, master's degree in Nutrition and Exercise as well as master's degree and doctorate degree in Applied Sport Psychology. Wexford University is the higher education division of NESTA (National Exercise & Sports Trainers Association). For more information, please visit http://wexford.edu/.