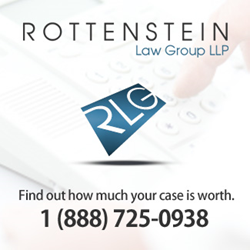 New York, NY (PRWEB) March 10, 2014
Biomet recently announced an agreement to settle pending consolidated hip replacement lawsuits filed by individuals who were implanted with M2a Magnum metal-on-metal hip implants (Case no. MDL 2391; U.S. District Court, Northern District of Indiana). In addition to the severe adverse side effects and injuries alleged in those claims, findings from a new study conclude that metal-on-metal hip implant recipients now face an increased risk of developing certain types of cancer. The Rottenstein Law Group LLP, an injury law firm maintains an informational web page that discusses the news and how it could impact those who have filed or are looking to file lawsuits.
The study, which was published in the February 2014 issue of Acta Orthopaedica, looked at data from the Finnish Arthroplasty Register, which tracked almost 30,000 hip replacement recipients who were implanted with metal-on-metal, and other types of hip implants. The data showed that metal-on-metal hips were not associated with an overall increased risk of cancer development, but statistics did indicate that all-metal hip patients were more likely to develop soft-tissue cancers, including sarcoma and basalioma. The data kept track of all-metal hip patients for just under five years, while those who received other types of hip implants were followed for an average of six years.
The Rottenstein Law Group LLP encourages those who believe they have suffered from the Biomet's alleged side effects to download a free brochure to learn more about Biomet lawsuits and side effects, and how to contact an attorney for a free consultation.
ABOUT THE ROTTENSTEIN LAW GROUP LLP
The Rottenstein Law Group LLP is a New York-based firm that represents clients nationwide in mass tort actions. The firm was founded by Rochelle Rottenstein, who has more than two decades of experience as a lawyer, to represent clients hurt by defective medical devices and medications. (Attorney advertising. Prior results do not guarantee a similar outcome.)
Contact:
The Rottenstein Law Group LLP
Rochelle Rottenstein, Esq.
100 Merrick Road
Suite 226W
Rockville Centre, NY 11570
(212) 933-9500 (office phone)
(212) 933-9980 (facsimile)
rochelle (at) rotlaw (dot) com
plus.google.com/106070664376281033016