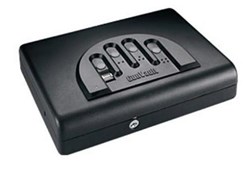 When it comes to storing gun safely and securely it is important that gun owners do the proper research on where to keep a gun.
Memphis, Tennessee (PRWEB) November 29, 2013
A biometric gun safe is considered one of the most reliable ways to keep a handgun out of the wrong hands—whether it's a child or an intruder, because they can only be opened with a specific person's fingerprints. Aside from having the best alarm systems, many homeowners feel owning a handgun is one of the top options for home safety, and with millions of Americans owning firearms, it's important they're kept secure with options like biometric safes.
The home security team at AlarmSystemReport.com, a site that reviews the best alarm systems and related technology including wireless alarm system reviews, has created a list of tips to help consumers when choosing a biometric safe.
1. Choose a safe with a reliable fingerprint reader, otherwise your safe is useless and even dangerous. Newer technology tends to be most reliable in terms of print readers, and being able to open the safe quickly can be lifesaving.
2. It's best to go with a big brand name. Reputation is important when it comes to reliability and performance of a biometric gun safe, so this isn't a time to go with a lesser known brand in order to save money.
3. Choose a safe that's going to be easy to install. Many people believe that aside from monitoring and services provided by home alarm system companies, a gun can be one of the most vital things to have in case of a break-in, but if you can't easily access your safe, this isn't the case. Some biometric safes attach the wall, whereas others can go in a nightstand drawer. Choose the option that you feel will best serve your unique needs.
4. Decide whether or not you want a safe that offers multiple ways to access it. For example, while the fingerprint may be the primary way to open a gun safe, many biometric safes also offer backup keys, in case of emergency.
5. A biometric safe should have a foam lining, in order to protect guns from damage while they're being stored.
6. Look at the warranty of the safe being considered. Some of the more high-quality biometric safes will offer lifetime replacements.
7. Read reviews from other customers, available at online retailer's websites. This is a good way to gauge the quality and overall feedback of a biometric safe before making a purchase. This particular type of safe can be expensive, and can be a significant investment, which makes it important that a consumer does adequate research before deciding on one model.
About AlarmSystemReport.com
Created by a team of the top home security and alarm specialists in the country, AlarmSystemReport.com is the go-to resource for unbiased, independent information in the home alarm industry. Residents all over the country can access individualized information on a state-by-state basis, from Kentucky security systems reviews to Minnesota security system reviews.