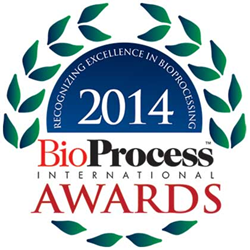 New York, NY (PRWEB) June 02, 2014
BioProcess International, a business-to-business publication dedicated to delivering cutting-edge information focused on the development and manufacture of biopharmaceuticals and therapeutics, announces an agreement with Sartorius Stedim Biotech to become a program sponsor of the 2014 BioProcess International Awards – Recognizing Excellence in the People, Organizations and Technology Applications in Bioprocessing.
The awards have been developed to encourage leaders, scientists, manufacturers, engineers and suppliers to raise the awareness of their individual achievements, collaborations, successful business strategies, social corporate responsibility and technology applications that will allow the industry to deliver better, more effective treatments to a global patient base. The award winners will be announced at a dinner and ceremony on October 22, 2014, during the annual BioProcess International Conference in Boston, MA.
"When the awards were held two years ago, the industry involvement and enthusiasm with the program was terrific and we are so pleased to be acknowledging the advancements and accomplishments within the industry again," said Brian Caine, BioProcess International's Founder and Publisher. "Sartorius Stedim Biotech is an innovator of products and quality services that provide those globally with the tools needed for their own achievements in implementing complex and quality-critical processes for biopharmaceutical production. We are so pleased to have them as a program sponsor of the 2014 BioProcess International Awards."
"As a past winner of a BioProcess International Award, Sartorius Stedim Biotech is proud to support the continuing recognition of innovation and forward thinking leadership in bioprocessing of our industry colleagues by the cutting-edge publication that is BioProcess International," said Paul Priebe, Director, Fluid Management Technologies, Sartorius Stedim North America
The nominations deadline is June 27, 2014. To submit your nomination, visit: http://www.bioprocessintl.com/awards.
For a complete list of ballot questions, download the information packet.
Awards will be granted recognizing achievements within the following categories:

Individual Achievement
Best Collaboration
Excellence in Leadership
Lifetime Achievement
Excellence in Facility Design or Retrofit
Emerging Company
Corporate Citizenship
Most Effective Licensing or Co-Marketing Collaboration
Best Technology Application - Upstream (user or supplier)
Best Technology Application - Downstream (user or supplier)
Best Technology Application - Analytical (user or supplier)
About Sartorius Stedim Biotech
Sartorius Stedim Biotech is a leading provider of cutting-edge equipment and services for the biopharmaceutical industry. It focuses on single-use technologies and value-added services to meet the rapidly changing technology requirements of the industry it serves. The company introduced the first single-use bag for biopharmaceutical applications and is currently setting a new benchmark with its unique "Flexsafe" bag solution.
To learn more: http://www.sartorius.us
About BioProcess International
BioProcess International is part of Informa, the leading provider of high quality scientific, technological and proprietary business information to the global life science community.
To submit a nomination or request sponsorship information, please visit: http://www.bioprocessintl.com/awards.