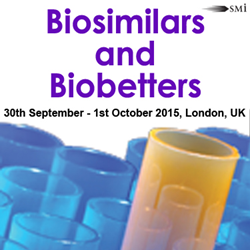 MHRA to present a keynote address on the UK regulator's experience of PV and RMP for biosimilars
London, UK (PRWEB UK) 8 July 2015
Several new high strength fixed combination and biosimilar insulin products are now on the market and draft guidance has been published which summarises ways to minimise the risk of medication errors. Further such insulin products will come to market over the next few years, as such the Medicines and Healthcare Products Regulatory Agency (MHRA) are encouraging those applicable to comment on the risk minimisation strategy for high strength and fixed combination insulin products, which is being developed by the European Medicines Agency (EMA).
(Source: 'High strength, fixed combination and biosimilar insulin products: minimising the risk of medication error', Medicines and Healthcare Products Regulatory Agency, 29 April 2015)
Against this backdrop, SMi's 6th annual Biosimilars and Biobetters conference, taking place on 30 September - 1 October 2015 in London, will feature the MHRA's Senior Scientific Assessor, Shahin Kauser presenting on Day Two: "UK regulator's experience of PV and RMP for biosimilars". Shahin will be discussing the following topics:
What's new in the overarching biosimilar guideline regarding pharmacovigilance?
How traceable are ADRs for biosimilars reported to the UK Pharmacovigilance database?
What types of post authorisation studies (e.g. registries) are requested?
What other enhanced pharmacovigilance activities may be necessary?
What types of additional risk minimisation measures may be necessary?
The two-day conference programme also features senior industry decision makers who are pioneering the way in biosimilars and biobetters with companies leading presentations including GfK, Teva, Harvest Moon Pharmaceuticals USA Inc and many more, as they share the latest developments on key areas including regulatory landscape, pharmacovigilance of biosimilars, patent litigation, market access and EU & global market developments.
Speaker Panel includes:
Richard DiCicco, Chairman, Harvest Moon Pharmaceuticals USA, Inc
Shahin Kauser, Senior Scientific Assessor, MHRA
Chris Teale, Vice President Europe, GfK NOP Ltd
Bracha Timan, Director, Israel Site Head, Global Bioassays & Technology, Global R&D, Teva
Takashi Kei Kishimoto, Chief Scientific Officer, Selecta Biosciences
Karsten Roth, Director Clinical Operations, Cinfa Biotech GmbH
Alan Sheppard, Principal, Global Generics and Biosimilars, IMS Health
Steinar Madsen, Medical Director, Norwegian Medicines Agency
To view the full speaker line-up and complete conference agenda, visit http://www.biosimilars-biobetters.co.uk/prweb
Plus, don't miss two interactive conference workshops on:
A: Assessing the Regulatory Framework for Europe and the US – Developing Future Biologics
Workshop Leaders: Lincoln Tsung, Daniel Kracov, Jennifer Sklenar, Arnold & Porter (UK) LLP
29th September 2015, 1.30pm - 5.30pm
B: Biosimilars – Understanding the Regulatory Processes and the Commercial Realities
Workshop Leader: Peter Wittner, Senior Consultant, Interpharm Consultancy
2nd October 2015, 8.30am - 12.30pm