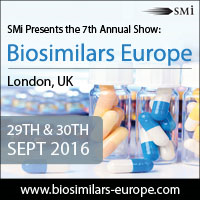 Past Attendee Testimonials: "Really wide range of topics" - Kantar Health; "Rich in information and quality speakers" - Globyz Pharma; "Great discussions, networking and education" - Apobiologix
London, England (PRWEB UK) 2 June 2016
SMi are delighted to announce that registration is now live to attend Biosimilars Europe, set to take place this autumn in London, UK.
Widely recognized as one of the most profitable areas of drug development, the global biosimilars market is expected to grow at a CAGR of 40.3% by 2020.*Source: http://bit.ly/1Z5zmm0
With a raising demand for cost effective biosimilar drugs, Biosimilars Europe 2016 returns for its 7th annual show to showcase the latest updates in regulation, patent expiries and tactical approaches to market entry through informed guidance delivered by a panel of speakers that includes Merck Group, Boehringer Ingelheim GmbH, Bristows LLC and various medical agencies from across Europe.
AGENDA HIGHLIGHTS INCLUDE:

Insight into future projections presented in an opening keynote by industry specialist, Dr Duncan Emerton, FirstWord.
1st hand experience on strategy and portfolio management in a VUCA (Volatile, Uncertain, Complex & Ambiguous) world through a case study on emerging biosimilars, presented by Merck Group.
Case study updates into both USA and UK litigation with Bristows LLP.
Guidance into entering emerging markets with insight into current guidelines, regulation, and pricing & reimbursement strategies, from Shanghai CP Guojian Pharmaceuticals.
A spotlight session on commercialisation featuring talks from RJW & Partners and Abzena.
A spotlight session on cutting edge technological developments with progressive outlook into bioanalytical analysis, yielding 3D structure of monoclonal antibodies, and opportunities for biosimilars in medical device components.
THE SPEAKER LINE-UP WILL FEATURE:
Huiguo Hu, General Manager of International Business, Shanghai CP Guojian Pharmaceutical Co Ltd
Dr Niraj Chhaya, Risk Management, Boehringer Ingelheim GmbH
Atanas Dimitrov, Head of Strategy & Portfolio Management, Merck Group
Dr Alok Sharma, Head, Bio-Analytical Development, Lupin Ltd
Dr Andrea Laslop, Head of Scientific Office, Austrian Agency for Health and Food Safety
Joan O'Callaghan, Research Scientist for Regulatory Science Ireland, Health Products Regulatory Authority, Ireland
The full line-up and detailed agenda is available online at http://www.biosimilars-europe.com
Biosimilars Europe 2016
Conference: 29th & 30th Sept 2016 | Interactive Workshops: 28th Sept 2016
Holiday Inn Kensington Forum, London UK
Sponsored by: Abzena
--- end ---
About SMi Group:
Established since 1993, the SMi Group is a global event-production company that specializes in Business-to-Business Conferences, Workshops, Masterclasses and online Communities. We create and deliver events in the Defence, Security, Energy, Utilities, Finance and Pharmaceutical industries. We pride ourselves on having access to the world's most forward thinking opinion leaders and visionaries, allowing us to bring our communities together to Learn, Engage, Share and Network. More information can be found at http://www.smi-online.co.uk