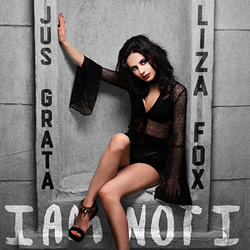 This is a marvelous pop/dance affair of the highest order. -- DJ Robert Scott
Los Angeles, CA (PRWEB) July 28, 2015
Bipolar disorder is often associated with mood swings ranging from depressive lows to manic highs several times a day to a few times a year. The World Health Organization (WHO) has reported that bipolar disorder affects about 60 million people worldwide. A research study by the National Institute of Mental Health reveals that the United States has the highest lifetime rate of bipolar disorder at 4.4% affecting 14 million Americans.
On July 13th, U.S. Billboard-charting singer Liza Fox released "I Am Not I" music video depicting her ordeal to raise awareness of bipolar disorder.
On August 25th, "I Am Not I" and bipolar disorder will be featured in the Hollywood Weekly magazine available at newsstands, supermarkets, and bookstores in 60 countries worldwide.
Each of the six new songs in the "I Am Not I" album is a unique story revealing a facet of the singer's multidimensional personality. The album can be purchased on iTunes and Amazon.com:
Mastered for iTunes (MFiT): http://itunes.apple.com/album/id1012782234
Amazon: http://www.amazon.com/Not-Liza-Fox-Jus-Grata/dp/B010FES8G8/
All proceeds are donated to the nonprofit Institute for Education, Research, and Scholarships for improving society through creative media including books, music, films, fashion, games, and the arts.
ABOUT THE ARTISTS:
American singer-songwriter Liza Fox has one song on the U.S. Billboard chart and two songs on the U.K. Music Week chart. Producer / DJ Jus Grata has 11 songs in the Top 10 radio charts in Europe, including five songs at number one.
Twitter: @LizaFoxMusic
Instagram: lizafox_
Facebook: https://www.facebook.com/LizaFoxMusic
YouTube: http://www.youtube.com/LizaFoxMusic
ABOUT THE INSTITUTE FOR EDUCATION, RESEARCH, AND SCHOLARSHIPS:
The Institute for Education, Research, and Scholarships is a California-based, 501(c)(3) nonprofit public charity organization dedicated to improving society by providing resources to high achieving students, scientific researchers, community nonprofits, and educational organizations for more than 10 years.
ABOUT HOLLYWOOD WEEKLY:
Hollywood Weekly is a monthly digital and print lifestyle magazine that caters to affluent consumers in 60 countries worldwide. The "No Gossip, Strictly Entertainment" editorial focuses on the arts, fashion, film, and music.