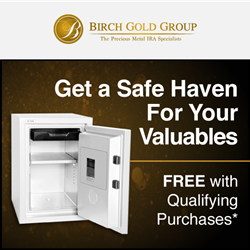 For a limited time, Birch Gold Group is offering a free home safe to customers with their qualifying precious metals purchase. "Because everyone needs a little extra security."
BURBANK, Calif. (PRWEB) March 23, 2021
After helping 10,000 delighted Americans secure their savings with physical precious metals, the leading gold IRA company Birch Gold Group has announced a limited-time promotion for new and existing customers.
"We're humbled so many people have chosen us to help them diversify their retirement savings with physical precious metals," said Peter Reagan, financial market strategist with Birch Gold Group. "In honor of this milestone, and to thank our customers for joining the Birch Gold family, we really wanted to do something different, something special. We spent a lot of time thinking about it. And then we realized: in a sense, we're in the security business."
With this in mind, for a limited time, Birch Gold Group is offering a free home safe to customers with their qualifying precious metals purchase. "Because everyone needs a little extra security," Reagan said.
The majority of Birch Gold Group's customers choose physical precious metals to secure the purchasing power of their savings from inflation, currency debasement, and the sorts of counterparty risk inherent in paper assets like stocks, bonds, mutual funds and the like.
"Retirement savers come to us because they want to rest easy at night. They don't want to wake up one morning and discover their plans are in jeopardy because of a 'flash crash' or a trade war or an Enron," Reagan said, referring to the 2010 trillion-dollar stock market crash, the ongoing economic conflict with China and the 2001 accounting scandal, respectively.
This makes sound economic sense. Physical precious metals aren't subject to the same forces as paper assets, and diversifying savings with gold or silver can provide protection against inflation and volatility. In addition to gold IRAs, Birch Gold Group offers home delivery for buyers interested in purchasing gold or silver with after-tax cash rather than retirement funds.
"Then I realized we could help our customers secure their valuables as well as their savings. The same way you might worry about inflation robbing you, you might be concerned about actual robbery." That's why Birch Gold settled on a free home safe from Hollon Safe Company as the ideal thank-you and welcome gift for customers.
"I have one," Reagan said, "and I can tell you, it definitely helps me sleep better at night." What does he keep in his safe? "The things I don't want anyone to steal," he said, and laughed.
Why Choose Birch Gold Group?
What sets Birch Gold Group apart from other precious metals IRA companies? "We believe in empowering our customers through knowledge," Reagan explained. He described a typical call with a customer. "There's a lot of anxiety, a lot of uncertainty, about the future, and about who we are. Most people call us braced for a high-pressure sales pitch. That's just not what we do," Reagan said. "You couldn't even buy something on your first call, even if you wanted to!"
Instead, Birch Gold's dynamic team of former wealth managers, financial advisors and commodity brokers ask questions. "What are your objectives? What are your concerns? How do you think precious metals will contribute to achieving your goals," Reagan said. "We do a whole lot more listening than talking."
That education-first business model seems to be working. In addition to 10,000 customers (and counting), Birch Gold Group has stood out in the field of precious metals IRAs. Their A+ rating with the Better Business Bureau, AAA rating from the Business Consumer Alliance and numerous five-star ratings on nearly every review platform speak to an 18-year history of happy customers.
"This free gift offer runs till April 30th," Reagan said. "After that, I guess we'll have to wait till we hit 20,000 customers."
It probably won't take 18 years this time.
To learn more about how to protect your savings with gold and silver, and find out how to qualify for your own Hollon home safe, visit https://www.BirchGold.com or call (800) 355-2116.
About Birch Gold Group:
Birch Gold Group, the Precious Metal IRA Specialists, is a leading dealer of physical gold and silver in the United States. The business helps people protect their savings, either for retirement as part of a Gold IRA or Silver IRA, or to take physical delivery of precious metals. It has an A+ rating with the Better Business Bureau (BBB). The Birch Gold team of professionals has decades of combined experience, including past positions with Citigroup, Dun & Bradstreet, and IBM.