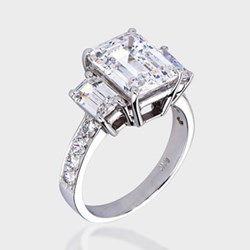 This year is already shaping up to be our busiest yet and we could not be more pleased.
New York, NY (PRWEB) December 03, 2013
Birkat Elyon, world renowned cubic zirconia jewelry manufacturer, is responding to a spike in sales as their designer inspired cubic zirconia ring collection proves to be popular among holiday shoppers.
Founded in 1986, Birkat Elyon has since earned a reputation as the world leader in high-end cubic zirconia jewelry manufacturing. Using only the original Russian formula and the highest quality raw materials available, Birkat Elyon manufactures CZ with a purity level of 99.9%. Each stone is painstakingly hand cut and polished with the same precision used by master jewelers when refining diamonds, producing stones with an unparalleled level of beauty and splendor. This world renowned commitment to quality makes it difficult, even for professionals, to differentiate Birkat Elyon's cubic zirconia from diamonds.
2013 has been a strong year for the acclaimed CZ jewelry designer. Having hit record breaking sales numbers quarter over quarter, the entire Birkat Elyon team is preparing for what is forecasted to be their strongest year to date. Holiday orders have already begun to flood in, from around the globe, from new and existing customers. With the holiday shopping season quickly coming to a close, the entire Birkat Elyon family is preparing for yet another onslaught of CZ jewelry orders.
"The fourth quarter is always a busy time of year for those of us in the retail industry," said Rebecca Daniel, Senior Designer and Sales Director at Birkat Elyon in New York. "This year is already shaping up to be our busiest yet and we could not be more pleased."
Among Birkat Elyon's top sellers, for the 2013 holiday season, are their designer inspired cubic zirconia rings. The Birkat Elyon ring collection is comprised of a wide variety of designs, from simple to intricate. A trending look for fall and winter, it's no surprise that their eye-catching rings are proving to be popular holiday gifts.
"Cocktail rings are always a great gift and because we have such a wide variety, we truly offer something for everyone," added Daniel.
With consumer confidence still shaken in the wake of the recent U.S. government shut down, many are looking for affordable alternatives to higher priced holiday gifts. The good news for those in the CZ industry, high-end cubic zirconia jewelry seems to fit the bill. Consumers worldwide are turning to the expert designers at Birkat Elyon to help them give the gift of luxury, this holiday season, without frivolously overspending.
With the fourth quarter in full swing, the Birkat Elyon team is hard at work fulfilling orders and preparing for the final days of the holiday shopping season. Watch for more announcement, in the coming month, as Birkat Elyon kicks off what promises to be another successful year. To learn more about the Birkat Elyon CZ jewelry collection, visit them online at http://www.BirkatElyon.com or call 877.777.8352 to speak to one of their talented jewelers.
About Birkat Elyon:
Birkat Elyon is an online luxury cubic zirconia jewelry manufacturer, specializing in 14K gold, 18K gold and platinum designs. Birkat Elyon has more than 20 years of CZ jewelry expertise. Located on Park Avenue in New York City, Birkat Elyon offers free wedding jewelry consultations for the selection of readymade designs, as well as for custom-made jewelry.
###