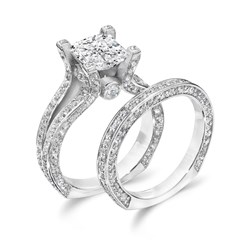 New York, NY (PRWEB) September 25, 2013
Birkat Elyon, acclaimed cubic zirconia jewelry manufacturer, is proudly catering to a growing number of couples looking to save as they shop for wedding ring sets. Offering a complete collection of cubic zirconia wedding sets, Birkat Elyon is helping many couples select and even design the wedding and engagement rings of their dreams.
Founded in 1986, Birkat Elyon has since become known as the world's foremost manufacturer of fine cubic zirconia jewelry. Using only the highest quality Russian formula, Birkat Elyon cubic zirconia boasts a purity level of 99.9%. Each stone is hand cut and polished with the same precision used by master jewelers when refining the world's finest diamonds. This unparalleled attention to detail gives Birkat Elyon cubic zirconia the luster of fine gemstones, at a fraction of the cost.
According to research from leading wedding industry websites TheKnot.com and WeddingChannel.com; the average U.S. wedding in 2012 cost $28,427, up from $27,021 in 2011. The rising cost of wedding planning in the U.S. is leaving many couples looking to uncover savings wherever possible. As more and more brides focus on creating memorable experiences for their guests, many are looking to replace traditionally expensive items with more affordable alternatives.
Those in the cubic zirconia jewelry industry have experienced a marked increase in CZ engagement ring and wedding band sales in recent years. Many industry thought leaders attribute this rise in sales to consumers seeking affordable substitutes to high priced diamond engagement and wedding rings.
"We are hearing from more and more couples who are seeking affordable, high-end cubic zirconia wedding ring sets," said Rebecca Daniel, Senior Designer and Sales Director at Birkat Elyon in New York. "We are always happy to have the opportunity to help these couples find just what they're looking for, at a significant savings."
Birkat Elyon is not only catering to couples nationwide, they are also experiencing sales growth on a global scale. As more couples begin to discover the incredible beauty and value of cubic zirconia wedding sets, orders are coming in from around the globe. From intricate CZ engagement rings to cubic zirconia eternity bands, sales are on the rise.
"We consider it an honor to have the opportunity to help these couples save on the wedding sets of their dreams, without sacrificing beauty or quality," added Daniel.
2013 has already proven to be the strongest year in Birkat Elyon's rich history. With sales continuing to pour in, and the holiday shopping season just around the corner, Daniel and her team are hard at work. Not only are they fulfilling orders for CZ wedding band and engagement ring at a record pace, they are also delivering upon orders for cubic zirconia cocktail rings, earrings, tennis bracelets and more.
As they gear up for the fourth quarter, the entire Birkat Elyon family is anxiously anticipating the culmination of this historic year. Watch for more exciting announcements in the coming months, as Birkat Elyon continues to set the standard for excellence in the CZ jewelry industry. To learn more about Birkat Elyon cz jewelry, visit them online at http://www.Birkatelyon.com or call 877.777.8352 to speak to one of their talented jewelers.
About Birkat Elyon:
Birkat Elyon is an online luxury cubic zirconia jewelry manufacturer, specializing in 14K gold, 18K gold and platinum designs. Birkat Elyon has more than 20 years of CZ jewelry expertise. Located on Park Avenue in New York City, Birkat Elyon offers free wedding jewelry consultations for the selection of readymade designs, as well as for custom-made jewelry.