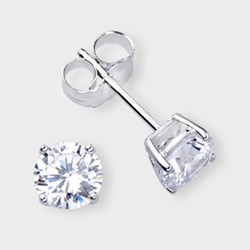 New York, NY (PRWEB) November 11, 2013
Birkat Elyon, celebrated cubic zirconia jewelry manufacturer, has experienced great successes in the past year, even in the wake of Hurricane Sandy. Despite early forecasts of a dismal year, following the storm's devastation, Birkat Elyon is proudly nearing the close of their most successful year in company history.
Founded in 1986, Birkat Elyon has been a driving force in the CZ jewelry industry for nearly 3 decades. An institution of uncompromising quality, Birkat Elyon is known the world over for their designer inspired pieces, superior quality cubic zirconia and uncompromising commitment to customer service. In fact, each Birkat Elyon stone is formulated using only the highest quality raw materials available, producing cubic zirconia with a purity level of 99.9%. Each stone is individually hand cut and polished with the same precision used to refine the world's finest diamonds. This unparalleled commitment to quality makes it difficult, even for experienced gemologists, to differentiate Birkat Elyon's CZ from fine diamonds.
Huricanne Sandy, which devastated the Birkat Elyon showroom and manufacturing facility on October 29, 2012, is now only a distant memory. Birkat Elyon was one of thousands of businesses rocked by the storm's destruction late last year. Just a few weeks before the official start of the 2012 holiday shopping season, many businesses were forced to shut down during their most profitable time of the year.
A company which has built an untarnished reputation on an unwavering commitment to customer satisfaction, the Birkat Elyon team made a decision to uphold that commitment even amongst the destruction of Hurricane Sandy. During the historic 2012 holiday shopping season, Birkat Elyon worked around the clock to fulfill orders and continue delivering the superior experience their customers have come to expect.
"It was a stressful time here at Birkat Elyon," said Rebecca Daniel, Senior Designer and Sales Director at Birkat Elyon in New York. "However it was also incredibly inspiring to have a firsthand account of the resilience of our team. We all came together and proved to be stronger than any of us thought possible."
Following the close of the holiday shopping season, the Birkat Elyon team continued working day and night to restore the beauty of their showroom and manufacturing facility. Though they bounced back quickly, most were preparing for a tough 2013; as were many businesses on the eastern seaboard. However, what started as a challenging year has proven to be the strongest and most successful in Birkat Elyon company history. The renowned cubic zirconia jewelry manufacturer has reported growth for 3 consecutive quarters and expects to close out yet another record breaking quarter next month.
"I cannot express our surprise or gratitude for the great fortune we have experienced in 2013, particularly when considering the great hardship we faced just one year ago," added Daniel.
The entire Birkat Elyon team is already hard at work, in their newly restored facility, fulfilling early holiday orders and preparing for what promises to be a busy holiday season. Cubic zirconia earrings, rings and bracelets are already proving to be popular 2013 holiday gifts, though they are anticipating an influx of orders on all of their top selling items. Watch for more exciting announcement, in the coming month, as Birkat Elyon closes out this historic year. To learn more about the Birkat Elyon CZ jewelry collection, visit them online at http://www.Birkatelyon.com or call 877.777.8352 to speak to one of their talented jewelers.
About Birkat Elyon:
Birkat Elyon is an online luxury cubic zirconia jewelry manufacturer, specializing in 14K gold, 18K gold and platinum designs. Birkat Elyon has more than 20 years of CZ jewelry expertise. Located on Park Avenue in New York City, Birkat Elyon offers free wedding jewelry consultations for the selection of ready-made designs, as well as for custom-made jewelry.