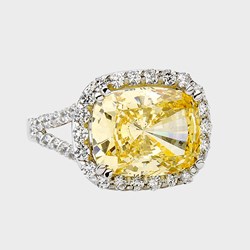 New York, NY (PRWEB) October 22, 2013
Birkat Elyon, acclaimed high-end cubic zirconia jewelry designer, is excited to announce the close of a third consecutive quarter of record setting CZ jewelry sales. As the celebrated CZ jewelry manufacturer prepares for the rest of the fourth quarter, 2013 is shaping up to be the strongest in company history.
Established in 1986, Birkat Elyon has been operating in the heart of New York's fashion district for nearly 28 years. During their long and successful tenure, Birkat Elyon has earned a reputation as the foremost global supplier of high-end cubic zirconia jewelry. Using only the highest quality Russian formula, Birkat Elyon produces virtually flawless cubic zirconia stones. In fact, their unparalleled commitment to quality enables them to manufacture CZ with a purity level of 99.9%. Even experienced gemologists find it difficult to differentiate these superior quality cubic zirconia from fine diamonds.
Like any industry, the high-end cubic zirconia jewelry trade has experienced ebbs and flows since consumer demand first began to rise in the 1970's. The CZ jewelry industry has however been one of the few to grow in the wake of the economic turmoil of the recent U.S. recession. CZ jewelry sales have since been on a steady rise. Most market analysts accredit this growth to a historic shift in consumer behavior. Today even wealthier individuals are seeking affordable alternatives to the luxury items they once enjoyed.
Originally developed in Russia as an affordable diamond substitute for use in laser technology, cubic zirconia quickly became known as a stunning alternative to high priced gemstones. Soon CZ jewelry manufacturers began offering the splendor of high-end diamonds at a fraction of the price. Today couples from around the globe are even opting for cubic zirconia engagement rings and CZ wedding bands.
As the most celebrated cubic zirconia manufacturer in the world, Birkat Elyon has been at the forefront of the CZ industry for years. With sales continuing to climb, the Birkat Elyon team is hard at work fulfilling orders from around the globe. The past three quarters have yielded record sales growth and, better yet, projected Q4 sales forecasts give company leadership every reason to expect the trend to continue throughout 2013.
"We began 2013 with high hopes but never could have imagined that it would turn out to be such a monumental year," said Rebecca Daniel, Senior Designer and Sales Director at Birkat Elyon in New York. "This is great news not only for us but for all of our colleagues in the cubic zirconia jewelry industry."
The entire Birkat Elyon family is preparing for what is sure to be their busiest holiday shopping season on record. With orders already flooding in for everything from CZ tennis bracelets to pendants and rings, their design team is anxiously anticipating the culmination of 2013.
"We're humbled by the success we've already enjoyed and we look forward to helping many of our favorite customers during the fast approaching holiday shopping season," added Daniel.
The entire Birkat Elyon team is already working hard to stay ahead of demand as they kick off the fourth quarter. Watch for more exciting announcements, in the coming months, as they continue to prove themselves as the world's foremost manufacturers of cubic zirconia jewelry. To learn more about Birkat Elyon cz jewelry, visit them online at http://www.Birkatelyon.com or call 877.777.8352 to speak to one of their talented jewelers.
About Birkat Elyon:
Birkat Elyon is an online luxury cubic zirconia jewelry manufacturer, specializing in 14K gold, 18K gold and platinum designs. Birkat Elyon has more than 20 years of CZ jewelry expertise. Located on Park Avenue in New York City, Birkat Elyon offers free wedding jewelry consultations for the selection of readymade designs, as well as for custom-made jewelry.