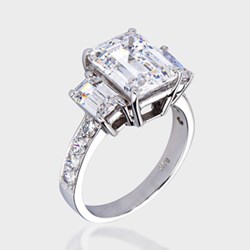 New York, NY (PRWEB) January 23, 2014
Birkat Elyon, celebrated high-end cubic zirconia jewelry designer, is already reporting strong sales numbers in the first weeks of the new year, as consumers prepare for Valentine's Day 2014.
Established in the heart of New York City in1986, Birkat Elyon has been recognized as the world's foremost manufacturer of superior quality cubic zirconia jewelry for nearly three decades. During the company's remarkable history, Birkat Elyon has sold thousands of designer-inspired and custom CZ pieces to discerning customers from all over the globe. Using only the highest quality Russian formula, Birkat Elyon produces virtually flawless cubic zirconia stones. In fact, their unmated quality standards enable them to create CZ with a purity level of 99.9%. The Birkat Elyon difference makes it difficult, even for seasoned gemologists, to differentiate their cubic zirconia stones from fine diamonds.
The past year has been monumental for the Birkat Elyon team. With sales reaching record numbers and consumer demand for cubic zirconia on the rise, Birkat Elyon closed their most successful year in company history. As they began planning for 2014, the leadership team at Birkat Elyon was forecasting for continued growth. However, they were not expecting such a steady demand for cubic zirconia in the first weeks of the year.
"Valentine's Day is generally a busy time for us, however it's pretty typical for orders to begin streaming in as we near the end of January," said Rebecca Daniel, Senior Designer and Sales Director at Birkat Elyon in New York. "This early influx is a welcome change for us as it gives us ample time to create, and even customize, pieces for our customers."
Offering a wide selection of cubic zirconia jewelry, to satisfy every aesthetic and budget; Birkat Elyon is not only recognized for their high-end jewelry but also for their commitment to offering great value. From understated CZ stud earrings to jaw dropping cubic zirconia necklaces, the Birkat Elyon collection truly offers something for everyone.
With 9 days left to place orders in time for a delivery on or before Valentine's Day, a number of Birkat Elyon pieces are proving particularly popular this year. Among their most popular Valentine's Day gifts are:
Cubic Zirconia Tennis Bracelets
CZ tennis bracelets are proving particularly popular this year. These timeless pieces are the ideal gift for the woman with an extensive jewelry collection, which is precisely why many returning customers are selecting cubic zirconia tennis bracelets.
Cubic Zirconia Stud Earrings
CZ stud earrings are generally a popular Valentine's Day gift, not only for their value but because they can be worn for all occasions. Those looking for a romantic yet practical gift are choosing to purchase stud earrings.
Cubic Zirconia Rings
In addition to the large number of CZ engagement rings that are purchased this time of year, many are choosing to purchase dazzling cocktail rings.
"We are always excited to help make Valentine's Day extra special for our customers and this year seems to be a great opportunity to help even more of them," added Daniel.
The entire Birkat Elyon team is hard at work responding to Valentine's Day orders as the January 31st deadline approaches. All orders placed on or before the deadline are guaranteed to arrive in time for the big day. Stay tuned for more announcements from Birkat Elyon, in the coming months, as they continue to respond to consumer demand for cubic zirconia jewelry. To learn more about Birkat Elyon cz jewelry, visit them online at http://www.Birkatelyon.com or call 877.777.8352 to speak to one of their talented jewelers.
About Birkat Elyon:
Birkat Elyon is an online luxury cubic zirconia jewelry manufacturer, specializing in 14K gold, 18K gold and platinum designs. Birkat Elyon has more than 20 years of CZ jewelry expertise. Located on Park Avenue in New York City, Birkat Elyon offers free wedding jewelry consultations for the selection of readymade designs, as well as for custom-made jewelry.