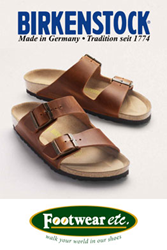 We are very happy to welcome back Birkenstock into our stores and our online catalog. Customers have been asking for this brand and we are happy to reward their loyalty.
Sunnyvale, CA (PRWEB) May 28, 2014
Footwear etc. is delighted to announce that it is again carrying models from Birkenstock. This brand has probably one of the most loyal customer bases around, and has proven to be incredibly popular over many years. With many styles of uppers for both men and women, these shoes are known for amazing support and comfort. Styles range from very casual to slightly dressy, and are known for their durability and comfort.
Birkenstock is known for their cork footbed sandals. These footbeds are available in firm or soft, depending on the model of the shoe you choose. The standard Birkenstock footbed is the firm, which contains many features to provide outstanding comfort. These features include: more toe room, a raised toe bar to encourage the natural gripping motion of your feet, a contoured footbed to mimic the shape of your feet, a deep heel cup for stability and natural spine alignment, a shock absorbing sole, jute fibers for strength and moisture-wicking ability, a supportive cork/latex footbed, and a footbed liner made from suede to keep your feet dry and comfortable. The soft footbed contains all of these attributes with the additional feature of a foam layer inserted between the top suede footbed liner and the layers of cork and jute.
Even celebrities such as Julianne Moore, Leonardo di Caprio, Anne Hathaway, and Gisele Gundchen have been sighted wearing various models of Birkenstocks. Some of the most popular models include: the Arizona – a slide with 2 thick, buckled straps. It is available for both men and women, comes in a variety of colors, and contains the soft footbed. The Gizeh - a thong-style sandal for women that contains an upper with a high gloss finish, and the Granada - a slide for women with two adjustable buckle straps and decorative cut-outs in the leather.
VP of Sales, Andrew Monarch adds, "We are very happy to welcome back Birkenstocks into our stores and our online catalog. Customers have been asking for this brand and we are happy to reward their loyalty. We know the comfort and durability of these shoes will make this brand very successful for us again."
Birkenstock shoes and insoles are available in Footwear etc.'s retail stores as well as online at footwearetc.com.
About Footwear etc.:
Footwear etc. is a well-established, family-owned business, headquartered in Silicon Valley, CA since 1986. The company is committed to improving customers' quality of life by offering brand name products that demonstrate their belief in the need for healthful, comfortable and fashionable footwear. Footwear etc. operates ten retail stores located throughout the Bay Area and San Diego, and also offers their products on their website and catalog. To find out more, please visit http://www.footwearetc.com.