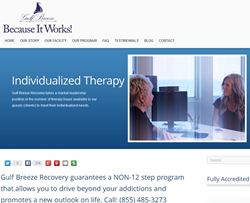 I just knew when I got here it was where I needed to be.
(PRWEB) June 03, 2014
A number of residents in the Birmingham area with drug or alcohol problems have recently been taking advantage of a new addiction treatment facility near Pensacola, FL called Gulf Breeze Recovery. There are a limited number of residential treatment beds available in Alabama, despite more than 200,000 people in the state having abused or become dependent on alcohol or other drugs in the past year.
Several new guests have indicated that finding an upscale but affordable inpatient treatment center can be difficult in the Birmingham area, so many people turn to nearby states to weigh their options. Since Gulf Breeze Recovery provides a unique, non-12 step approach to treating addiction and is located in a beautiful ocean-front setting, it quickly rises to the top of the list for those who become aware of it.
As the founder of the program, Barnett Gilmer and his team have dedicated themselves to providing a one-of-a-kind service for people struggling with substance abuse. Their dedication to doing what is right and treating people well is why clients are referred to as guests. The full-service facility offers medical detoxification, physical health recovery, mental health recovery and an aftercare program.
In the words of one recent guest at Gulf Breeze Recovery, "It looked like a wonderful place for me to be and I felt like it was a different approach to treatment...knowing that they offered a healing environment where you don't feel like you're bad and you're incurable - I just knew when I got here it was where I needed to be."
Gulf Breeze focuses on recognition and restoration of innate health rather than continually harping on past troubles. The individualized program typically lasts between 6 and 8 weeks, putting it into the longer-term category and thus offering more time to get healthy than an average month-long facility.
Check out http://www.gulfbreezerecovery.com for more information about the program and to see testimonials from clients and interviews with staff or call 1-855-485-3273 today.