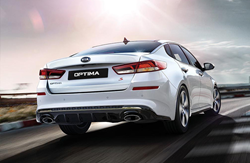 BIRMINGHAM, Ala. (PRWEB) December 21, 2018
Kia customers from far and wide are coming together this holiday season to take advantage of savings opportunities at Serra Trussville Kia. Now through Jan. 2, 2019, the dealership is hosting a number of sales on select new 2019 sedans, SUVs and more. Eligible models for this promotion include but are not limited to the 2019 Sorento L, 2019 Forte FE and 2019 Optima LX.
As a part of this promotion, the 2019 Kia Sorento L can be purchased for as little as $20,559; additional fees may apply. Included in this vehicle, one will find a 185-horsepower engine, a seven-inch touchscreen interface, Apple CarPlay™, Android Auto™, Bluetooth®, a rearview camera and more.
The 2019 Forte LE, on the other hand, is currently available for just $13,999 on the base price. This all-new sedan is just as safe as it is cost-efficient. With standard lane departure warning, forward collision warning, lane keeping assist and automatic emergency braking on every model, the Forte FE is a very well-rounded compact car, to say the least.
Thirdly, the 2019 Optima LX comes fully-loaded with all of the aforementioned features as well as satellite radio, HD radio, driver attention monitoring, rear parking sensors, rear cross-traffic alert, heated side mirrors, a driver information display and more. During the Kia Light Up the Holidays Sales Event at Serra Trussville Kia, the 2019 Optima LX can be acquired for as little as $18,999, excluding additional fees.
For more information about these or any other eligible models, serious inquiries can be directed to the dealership's sales team by calling 855-807-5763. Serra Trussville Kia is located at 5009 Brookes Crossing Blvd. To explore everything that the dealership has to offer from the comfort of one's home, all are welcome to visit Serra Trussville Kia online at http://www.serratrussvillekia.com.