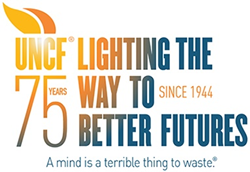 "As UNCF celebrates 75 years, we appreciate the contributions of our Birmingham community which always support us in a big way," said Casi Ferguson, area development director, UNCF.
BIRMINGHAM, Ala. (PRWEB) April 09, 2019
Birmingham's finest came out in full force on March 16 to celebrate UNCF's (United Negro College Fund) 75 years of service through the UNCF Mayor's Masked Ball. The ball was the second hosted by Morehouse College alumnus, the honorable Mayor Randall Woodfin, raising a record-breaking $500,000-plus for UNCF-member institutions and their students.
The sold-out event had more than 1,000 attendees, including event honorary co-chairs Jonathan Porter, vice president, Birmingham Division, Alabama Power, and John O. Hudson, III, executive vice president, chief external affairs officer and president, Southern Company Gas Foundation, Alabama Power; event honoree Gloria Dennard; Dr. Michael L. Lomax, president and CEO, UNCF; Dr. Billy Hawkins, president, Talladega College; and Dr. George French, president, Miles College.
"For 75 years, UNCF has been committed to giving minority students a chance to reach their full potential and achieve higher learning through scholarships. I'm proud of how everyone has stood with UNCF to help students,'' said Woodfin. "By giving our students an opportunity to learn, grow and mature at these schools, we are ensuring that Birmingham's future is strong. I thank UNCF and its supporters for continuing to grow our next generation of leaders.''
UNCF awards more than $100,000 each year in scholarships to more than 600 area students, securing better futures for all Americans, as many of the students and the HBCUs they attend contribute significantly to the local economy. Thanks to the publication of UNCF's landmark report, HBCUs Make America Strong: The Positive Economic Impact of Historically Black Colleges and Universities, the public good served by HBCUs is now known. HBCUs extend influence well beyond the students they educate and are equally important to the communities they have served for more than 100 years. Generating $1.5 billion in total economic impact annually for the state, HBCUs also contribute 15,062 jobs to Alabama.
Grammy® Award-winning singer Anthony Hamilton performed, and the event featured a reception, silent and live auctions, elegant dining, dancing and additional entertainment by Rickey P and Vesper and the Miles College Jazz Ensemble. Several notable Alabamans attended, including U.S. Sen. Doug Jones, state Sen. Linda Coleman-Madison, state Rep. Juandalynn Givan and Birmingham City Councilor Steven W. Hoyt. Art Franklin, anchor, WBRC-TV, and Ashley Gann, CBS 42 chief meteorologist, served as the master and mistress of ceremonies for the event.
"As UNCF celebrates 75 years, we appreciate the contributions of our Birmingham community which always support us in a big way," said Casi Ferguson, area development director, UNCF. "With the support of our corporate sponsors, volunteers and Mayor Woodfin, we continue to go beyond expectations to support deserving students and our 37 UNCF-member institutions, five of which are Alabama."
The record-breaking celebration was made possible by presenting sponsors Alabama Power, AT&T, ACIPCO, Mercedes-Benz, PNC, BBVA Compass, Birmingham Airport Authority, Regions Bank, The Coca-Cola Company, The Jones Group, Balch and Bingham, LLP, and Sixth Avenue Baptist Church.
To view images, visit UNCF.org/Birmingham.
###
About UNCF
UNCF (the United Negro College Fund) is the nation's largest and most effective minority education organization. To serve youth, the community and the nation, UNCF supports students' education and development through scholarships and other programs, supports and strengthens its 37-member colleges and universities, and advocates for the importance of minority education and college readiness. UNCF institutions and other historically black colleges and universities are highly effective, awarding 21 percent of African American baccalaureate degrees. UNCF administers more than 400 programs, including scholarship, internship and fellowship, mentoring, summer enrichment, and curriculum and faculty development programs. Today, UNCF supports more than 60,000 students at over 1,100 colleges and universities across the country. Its logo features the UNCF torch of leadership in education and its widely recognized motto, "A mind is a terrible thing to waste."® Learn more at UNCF.org or for continuous updates and news, follow UNCF on Twitter at @UNCF.