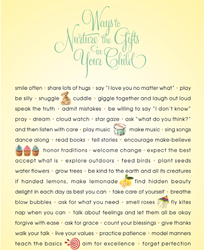 designed to encourage parents to nurture the inner strength, courage, compassion, hope, joy, imagination and other natural gifts in their children
Orlando, Florida (PRWEB) October 22, 2014
The Twelve Gifts of Birth Foundation has announced a Welcome to the World project that provides a birth keepsake and conscious parenting tool as a hospital take-home gift for new mothers. "The first hospital to participate and receive the keepsake is Winnie Palmer Hospital for Women & Babies in Orlando, Florida", said Charlene Costanzo, foundation president. Launched in connection with the 25th birthday of Arnold Palmer Medical Center, 14,000 keepsakes have been given to the hospital based on the estimated number of babies who will be born there within twelve months.
"We are delighted to provide this beautiful birth keepsake to our patients," said Sheila Bystrak, Chief Operating Officer, Winnie Palmer Hospital. "And pleased to be the only hospital in central Florida who will be offering this supportive tool to new parents. The response so far has been heartwarming."
According to Ms. Costanzo, The Welcome to the World keepsake is designed to encourage parents to nurture the inner strength, courage, compassion, hope, joy, imagination and other natural gifts in their children via a congratulatory letter, a Twelve Gifts Birth Certificate, and a Ways to Nurture the Gifts in Your Child mini poster.
"The warm yellow poster, with 60 simple yet powerful ways to cultivate self worth and character in children, seems to be the favorite feature of many recipients," said Costanzo. "Many of these life guiding principles are common understandings and will resonate with the wisdom in every parent. A few of the principles may be new in some homes, such as: talk about feelings and let them all be okay."
Both the birth certificate and mini poster are ideal for framing and featuring in scrapbooks.
Signed copies of the best-selling The Twelve Gifts of Birth book are also given to the babies born on the launch date at each participating hospital. The project also includes a method through which participating hospitals can receive on-going donations from The Twelve Gifts of Birth Foundation.
Charlene Costanzo, a noted author of inspirational works, founded The Twelve Gifts of Birth Foundation with proceeds from the sale of her best-selling book, The Twelve Gifts of Birth, as a charitable and good works organization to foster the values espoused in the book. Foundation goals include advancing the well being of children, strengthening families, and building respect among all people. The Foundation is organized and operated as a nonprofit tax-exempt organization under sections 501(a) and 501(c)3 of the Internal Revenue Code. There are no management fees associated with the Foundation.
See more at http://www.thetwelvegiftsofbirthfoundation.com
More about Charlene Costanzo at http://www.charlenecostanzo.com
Additional conscious parenting suggestions at http://www.thetwelvegiftsofbirth.com.
Winnie Palmer Hospital for Women & Babies, supported by the Arnold Palmer Medical Center Foundation, is a 315-bed facility dedicated exclusively to the needs of women and babies. As part of Arnold Palmer Medical Center, the hospital is Magnet®-designated for its commitment to quality patient care, safety, research, and service excellence. It is a leader in neonatal intensive care, and comprehensive healthcare for women throughout all stages of life, providing a wide range of services in obstetric and gynecologic care. Winnie Palmer Hospital has been recognized as an Academic Center of Excellence in minimally invasive surgery. Its highly-trained physicians utilize the most advanced technology to effectively treat the vast majority of gynecologic conditions with fewer complications and faster recoveries. The hospital also includes comprehensive fetal diagnostics, labor and delivery services, maternal intensive care, and the largest center for neonatal intensive care in the world. Annually, more than 13,000 babies are expected to be born at Winnie Palmer Hospital, making it one of the busiest in the country. The hospital also ranks in the top 10 percent nationally for patient satisfaction. To learn more, visit http://www.winniepalmerhospital.com or http://www.accordingtowinnie.com