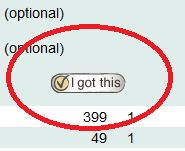 Members requested a way to save a history of gifts they received, and Giftster has it now.
Minneapolis, MN (PRWEB) February 28, 2014
The "I Got This" item archiving feature was released this week by MyGiftster Corporation.
This new capability is available now to all new and existing members of the Giftster lifetime gift registry service at giftster.com.
With one click, the "I Got This" button removes a item on a Giftster member's list, and then automatically creates an 'I Got This" archive and places a copy of the item there for a permanent record.
Creating a list of items received was a popular request from Giftster members. It can be helpful to refer back to the item history for a model number, size, or web link to an item.
Giftster lists contain wish list ideas, and over time the recipients receive some of those items, and the "I Got This" button is a quick way to move them off the list without losing the details.
The "I Got This" feature is slated to be added to the Giftster mobile editions next. Members can view their "I Got This" list on mobile editions of Giftster now, but the button itself is only available on the website.
About Giftster
Giftster is defining the standard for a permanent, lifetime gift registry for families and close friends. Giftster is the central place for families to post and maintain shared wish lists and gift preference profiles, accessible only to members of that family.
Unlike event-based wedding or baby registry services, Giftster is used year around as a permanent family reference point at gift giving occasions. This time of year the most popular use is for birthday wish list registries. Giftster helps birthdays work better with built in birthday reminder notifications.
Giftster is independent of any one retailer, and one member of the family administers the group to maintain privacy and decide who is included in each group.
Giftster synchronizes instantly among versions for the web at giftster.com, for iPhone at Apple iTunes, for Android at Google Play, and other small screen browsers at m.giftster.com.
###
Giftster and "lifetime gift registry" are trademarks of MyGiftster Corporation. Press resources located at http://www.giftster.com/press/.