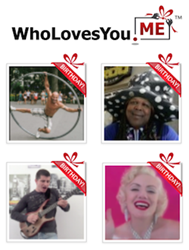 "It's fast, easy and super cool"
Fort Meyers, FL (PRWEB) July 31, 2014
WhoLovesYou.ME™ the online birthday entertainment website lets consumers send a personalized birthday Gigeo™ created by people all over the world.
By creating this new category, WhoLovesYou.ME™ lets consumers send a friend, loved one or family member, a uniquely personal and unforgettable birthday gift called a Gigeo™. A Gigeo™ is a personalized entertainment video dedicated to someone's birthday or special occasion in some specific way.
"It's fast, easy and super cool," said Anthony DiPrima, founder of WhoLovesYou.ME™
The challenge of finding a unique, personal and very affordable birthday gift while truly leaving a lasting impression has just been made simple. WhoLovesYou.ME™ eliminates the need to waste time and money searching for unique gift ideas by offering high value Gigeo™ entertainment videos at very reasonable market prices. A Gigeo™ can be purchased for as little as $8. Compare that to a greeting card.
At http://WhoLovesYou.ME, there are professional musicians like Nuno Monteiro, from Madrid, Spain doing a personalized rock-n-roll birthday riff, a musical trio from Kentucky, called The Many-Splendored Things and a Jazzy Happy Birthday produced in Mexico City by Francisco Benitez. Looking further, you will find a Marilyn Monroe impersonator doing a very personalized version of happy birthday Mr. President for someone, a drunken birthday cheers from Australia by Mr. Marcus, and a crazy bed bug by Jamie Honey from Yelm, Washington.
Other Gigeo™ producers found on WhoLovesYou.ME™ include:

Comedians, impersonators and actors
Professional singers, musicians and artists
Street performers, dancers and strange characters
Puppets, clowns and magicians for kids
Learn more at http://WhoLovesYou.ME
About WhoLovesYou.ME, LLC
WhoLovesYou.ME is giving consumers an alternative to mundane paper birthday greeting cards and digital ecards while letting entertainers, artists and everyday people capitalize on their talents from any place in the world. Currently, the community is comprised of 15+ countries and growing. Five percent (5%) of every Gigeo™ sold goes to the International Fund for Animal Welfare.
Gigeo™ and WhoLovesYou.ME™ are trademarks of WhoLovesYou.ME, LLC.