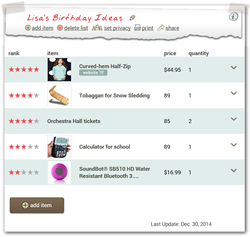 "...reaching a point someday where 'checking Giftster' for someone's gift ideas is as common as 'checking Netflix' for movie ideas." -- Ron Reimann, Giftster president
Minneapolis St. Paul, MN (PRWEB) December 30, 2014
As 2014 comes to a close, the Giftster lifetime gift registry service is pleased to announce that we again saw more than a doubling of membership in 2014 over 2013. The holidays are a big driver, but increasingly we see use for birthdays and other occasions.
A glance at the thousands of new lists created since December 25th shows about 25% are clearly for birthdays with "birthday" in the list title. Services like Giftster also send a reminder email to someone with an upcoming birthday to update their list and preferences 30 days ahead of the date.
Families who set up Giftster already have a huge advantage when a family birthday shows up on the calendar. Since everyone in the family is already connected in a Giftster group, just by logging in they can instantly view the existing wish list and gift preferences for the person with the birthday, ensuring gifts that are really needed or wanted by the recipient, and to coordinate gift giving.
Is Giftster for the greedy?
At first glance, the idea of creating a "what I want for my birthday" list sounds like something right out of a Madonna "Material Girl" lyric; A selfish focus on "me"; A Sear's catalog romp gone wild.
The reality is quite different, according to Ron Reimann, Giftster president. "Since gift giving is so meaningful to so many, the tradition is going to happen, whether the gifts are right or not. Taking the time to share ideas on your own gift preferences or even making a list, helps the gift givers make more thoughtful and needed gift choices. It also reduces needless gift anxiety for the gift giver and the gift receiver."
Since Giftster, for example, lets gift givers mark something as "purchased", it helps prevent a duplicate gift. And with Giftster's Gift Preference Profile, a gift giver could opt not to make use of someone's list but instead study their preferences and attempt to select their own gift idea armed with better information.
With a birthday, the family's focus is on one person, and with a birthday wish list registry like Giftster they all have a way to coordinate the gift giving and make it a low stress, high celebration day.
"We expect the year-round use of online services like Giftster to continue to increase," says Reimann, "reaching a point someday where 'checking Giftster' for someone's gift ideas is as common as 'checking Netflix' for movie ideas."
About Giftster
Giftster is a service by MyGiftster Corporation, a private Minnesota-based company, with members all over the world in 22 countries.
Giftster is a free lifetime gift registry for families and close friends that helps them give and get gifts that matter most.
The service is cross platform, so everyone has a way to prepare for birthdays on Giftster, with giftster.com on the web, Giftster for Android in Google Play, Giftster for iOS on iTunes, and responsive m.giftster.com for other mobile browsers.
The actual economic cost of "gift guessing" is surprisingly staggering. A 2009 study by University of Minnesota economics professor Joel Waldfogel found in the USA alone a $14 billion loss of economic value during the holidays - representing the gap between what people pay for gifts, and what the recipients value them at. Giftster helps solve this $14 billion problem by matching gifts with real wants and needs. Obviously similar dynamic plays out for birthdays.
###