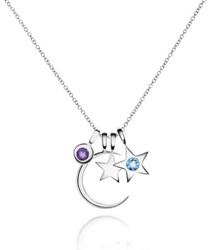 'As a former Free Arts volunteer,' says Luna & Stella founder Suzanne Wernevi, 'I've seen the impact of its programs. It's amazing to watch a child who doesn't seem interested in academics to be engrossed in the art projects, and so proud of the results.'
Providence, RI (PRWEB) November 30, 2013
Luna & Stella Modern Birthstone Jewelry has joined #GivingTuesday, a first-of-its-kind effort that will harness the collective power of a unique blend of partners—charities, families, businesses, and individuals—to transform how people think about, talk about, and participate in the giving season. Coinciding with the Thanksgiving Holiday and the kickoff of the holiday shopping season, #GivingTuesday will inspire people to take collaborative action to improve their local communities. Taking place December 3, 2013, #GivingTuesday will harness the power of social media to create a national moment around the holidays dedicated to giving.
To celebrate the season of giving, Luna & Stella is donating $5 of every Moon & Stars Birthstone Necklace sold now through December 31 to Free Arts NYC. Free Arts NYC's programs are designed to increase access to high-quality arts education and reduce the negative effects of poverty. Free Arts programs do this by creating regular opportunities for youth and families to build the skills, creativity, and resilience that can help them overcome challenges and live happy, healthy, successful lives.
"As a former Free Arts NYC volunteer at the Dream Charter School in East Harlem," says Luna & Stella founder Suzanne Ellis Wernevi, "I have seen firsthand the impact of Free Arts programs. It is amazing to watch a child who does not seem interested in academic subjects to be so engrossed in the art projects, and so proud of the results. We at Luna & Stella believe all children should have access to high-quality arts education, and we are proud to support the work of Free Arts NYC."
The Moon & Stars Birthstone Charm Necklace can be purchased exclusively through Luna & Stella's online store, http://www.lunaandstella.com.
About Luna & Stella:
Luna & Stella is an online brand of personalized birthstone jewelry that celebrates family and friends through its unique and sophisticated designs.