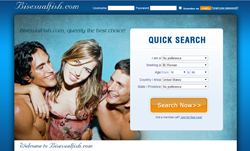 Los Angeles, California (PRWEB) September 11, 2015
BisexualFish.com, the world's first and largest bisexual dating site, announced today the launch of its new "Let's Meet" feature. Users who access the platform from both computers and mobile devices now have the option to quickly like or pass on members suggested by the site with a simple tap or click.
"The number of singles that use their mobile devices to enhance their dating lives is increasingly growing," said Marshall, spokesperson for BisexualFish.com. "Our new features cater to singles who want to quickly and efficiently narrow their prospects, and establish meaningful relationships."
BisexualFish.com has been matching bisexual couples and singles for more than 5 years. The platform offers numerous ways to search and connect with prospects, and hundreds of new members join each day. The new "Let's Meet" feature is just one of the many ways BisexualFish.com helps make it easy for users to find their match. It works just like Tinder - it allows users to quickly like or pass on a member that system suggests based on the distance of their locations or mutual interests.
When BisexualFish.com users tap the heart icon on their mobile phone to indicate that they like a member, and the member likes them back, the platform notifies them that they've found a match. The two members can then begin chatting instantly, the first step in potentially establishing a new relationship.
BisexualFish.com was started over five years ago with the goal of encouraging and sowing the seeds of bisexual relationships. Members are all seeking bisexual dating opportunities and a serious, long-term relationship. The site has about 1 million members.
For more information about the platform and to try the new "Let's Meet" feature, visit http://www.bisexualfish.com.