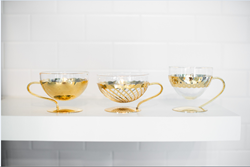 Portland, Oregon (PRWEB) July 12, 2017
Bishop House, makers of high-end luxury housewares, today announces the availability of its premier collection of elevated teaware. Designed to enhance the experience of tea and coffee drinking, this first collection includes three glasses by renowned Portland-based designer James Owen. Each glass incorporates modern and classical design elements, inspired by the flowing, spiral decorative motifs reminiscent of the Art Nouveau period. Each piece includes a handblown borosilicate glass bowl nested in a cantilevered stainless steel base plated in a choice of either 24-karat gold or pure silver.
The initial elevated teaware line includes three designs named for each of the three Greek Graces, representing good cheer (Thalia), mirth (Euphro), and splendor (Aglaea), respectively. The subjects of works by renowned artists from Sandro Botticelli to Pablo Picasso, the Graces were said to bring joy to the world and are considered alongside the Nine Muses as divine sources of artistic inspiration.

Thalia (available Fall 2017) – The first design in the series, chronologically, Thalia's cantilevered structure and swirling design creates the illusion of a floating, mesmerizing spiral with no beginning or end. As with all three glasses, the unique handle design ensures that no heat is transferred from cup to surface, while a handblown glass bowl insulates hot beverages and helps maintain a consistent temperature.
Euphro (available Fall 2017) – Inspired by Thalia's spiral motifs, Euphro's finely-etched supporting structure embodies the core principles of modern design, with subtle classical touches in the scalloping along the rim.
Aglaea (available Fall 2017) - A modest departure from the aesthetic of its siblings, Aglaea features an understated yet distinctive interwoven design, reminiscent of a fine Fabergé egg. The result is a sophisticated piece of glassware that's perfect to enhance a morning coffee or evening tea.
"After nearly two years of collaboration and persistence, I could not be more excited to introduce our first-ever line of elevated teaware. We set out with the goal to create stunning objects that would elevate the tea drinking experience, and the result is truly special," said Brian Sunderland, Founder of Bishop House. "Thalia, Euphro, and Aglaea are the perfect complement to any celebration and make memorable gifts. We invest a lot of time, thought and money to enhance the enjoyment of the things we love, and it's our mission to capture that philosophy for the tea and coffee drinking experience as well."
Bishop House tapped Portland designer James Owen to spearhead the distinctive design of their elevated teaware line. Owen brings more than a decade of design experience to the project, including work with brands like Nike, Pioneer, Yakima, Mattel, Philips and more. He has also received praise for his recent work developing the Ratio Coffee Machine, a high-end precision brewing system.
"Working with Bishop House offered a new design challenge for me. This is my first endeavor with decorative glassware, and I could not be happier with the result," said Owens. "By working directly with Brian, we were able to collaborate and create an impactful design that carries throughout the collection. From the quality of the materials we selected to the more ornate aspects of the design, I am excited to see how customers react to this new, elevated experience of enjoying hot beverages."
The Thalia is now available for pre-order in sets of two for $329, with an expected delivery of Fall 2017. The Euphro and Aglaea designs will be available Fall 2017. To pre-order, please visit http://www.bishophouseglass.com.
About Bishop House
Founded in 2016, Portland-based Bishop House provides artfully-designed housewares, including a line of elevated teaware to enhance the tea and coffee drinking experience. Each item in Bishop House's line of beautiful, decorative glassware is an instant conversation piece, and an ideal gift no matter the special occasion, whether a wedding, anniversary or house-warming. The company commits to honest and original designs, and to using the finest materials, creating modern classics for the home that will stand the test of time. To learn more, please visit http://www.bishophouseglass.com.
Media Contact:
Julianna Sheridan
Matter Communications
978-518-4520
bishophouse [at] matternow [dot] com