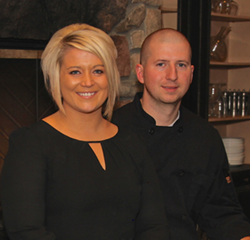 The St. Clairs share the same love and passion we do for the business and we are very confident in their success
Concord Township, Ohio (PRWEB) December 11, 2014
For 15 years, Chef John DeJoy has found joy in preparing exquisite culinary experiences for his loyal following of food lovers as owner of John Palmer's Bistro 44 (http://www.johnpalmers.com) in Concord Township.
For DeJoy and his wife, Michelle, it's time to pass on the chef apron. The couple recently sold the restaurant to the St. Clairs. Chef Sean St. Clair and his wife, Alison will continue to operate under the name John Palmer's Bistro 44. Coming from award winning restaurants, Moxie, the Restaurant and Red, the Steakhouse, as Chef de Cuisine and beverage manager, the St. Clairs are seasoned veterans in the white tablecloth restaurant business.
"John and I are very blessed to have owned John Palmers Bistro 44 for so many years," Michelle DeJoy said. "We have met and created memories with our wonderful staff and clientele throughout the years. The St. Clairs share the same love and passion we do for the business and we are very confident in their success."
Chef St. Clair is a graduate of Johnson and Wales University in Providence and his wife is a graduate of John Carroll University. Both are excited to bring their talents to Cleveland's east side landmark eatery that is John Palmer's Bistro 44.
"Owning an eastside restaurant has been a dream and ultimate goal for Alison and me for years now," Chef St. Clair said, "We are looking forward to building relationships with our clientele and providing them with exceptional cuisine and outstanding service. Our recently completed private dining room offers a new level of service for guests celebrating family events or business dinners. The private dining room will accomidate up to 20 people, and there is no charge for the room with a minimum of eight people," he concluded.
About John Palmer's Bistro 44
The 4,000 square-foot John Palmer's Bistro 44 offers a large open kitchen with Chef's Kitchen Counter seating in front of the kitchen to view the talented culinary staff at work. Guests can relax with their favorite wine, martini or cocktail in the cozy lounge before moving into the chic, comfortable dining room. Diners will appreciate the Bistro's stone fireplace during the cold winter months and enjoy al fresco dining on the beautiful outdoor patio in the summer, fall and spring. A private dining room has recently been added providing guests wtih a venue for private parties and events for up to 20 people.
For more information, plesae visit http://www.johnpalmers.com.